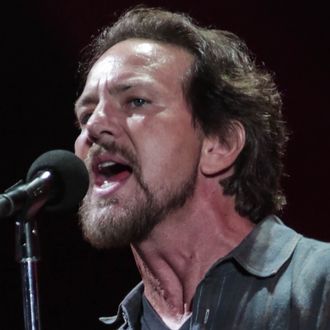 As the annual Rock and Roll Hall of Fame induction ceremony creeps up in a few weeks, we can thankfully now say farewell to a brewing feud: the curious case of Pearl Jam and its former drummers. When Pearl Jam was announced as one of this year's Rock Hall inductees, the decision of the organization to only include two of the band's drummers — Ten's Dave Krusen and longtime drummer Matt Cameron — prompted another one of the former drummers, Dave Abbruzzese, to harshly criticize the exclusion, going so far as to question the band's integrity as a whole. ("If there is still a part of that band that remembers how hard we worked, how much blood and how much sweat," Abbruzzese wrote, "They will do the right thing.") Now, it appears Abbruzzese sort of got his wish. In an open letter posted on Twitter, Pearl Jam invited all of the band's former drummers — five of them — to the induction ceremony to get their appropriate recognition. "While awards and accolades are understandably subjective and a countless number of our peers have yet to be honored, we do feel fortunate to be recognized and provided the opportunity to reunite with everyone who has been part of the group," a part of the letter reads. "Looking forward to seeing them."
It should be noted, though, that Krusen and Cameron are still the only drummers who will actually be inducted into the Rock Hall; the other three are only invited to the ceremony as guests. The Rock Hall confirmed this to Rolling Stone, noting that the organization, and not the band, determines the inductees. The other inductees this year are Journey, Joan Baez, Yes, Electric Light Orchestra, and Tupac Shakur.
It's slightly perplexing rules like this one that previously drew the ire of Steve Miller, who has spoken very critically about how the Rock Hall's induction process is "unpleasant" and bashed the selection committee for being "so fucked-up," "inbred," and "off course." He's currently in the midst of investigating the organization to see how they spend their funds.