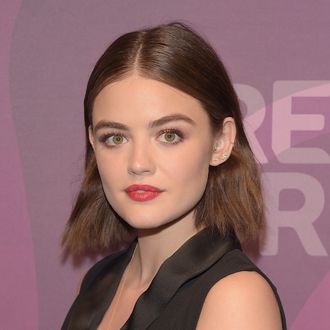 Lucy Hale.
Photo: Theo Wargo/Getty Images
Pretty Little Liars may not yet be over for fans still watching it, but since the series wrapped shooting months ago, its liars have been making next moves on their careers. This summer you can see Troian Bellisario in the Mad Max-esque marauding action film Chuck Hank and the San Diego Twins, and now we know where else we can find Lucy Hale. In addition to signing on for another TV gig in the CW show Life Sentence, Deadline is now reporting that Hale will appear in Truth or Dare, a horror film coming out of the fright fest that is Blumhouse Productions.
Kick-Ass 2 writer and director Jeff Wadlow will do double duty for this movie as well, and the plot sounds like a cautionary tale for co-eds traveling abroad. A college student goes to Mexico and is conned into playing a "supernatural version of Truth or Dare" — despite all the red flags inherent in that proposition. What happens in Mexico obviously does not stay in Mexico, and the game follows her back home. Hale, whose extra-wide eyes and pageant-pretty visage were practically built for the genre, has done some horror work before, appearing in one of the opening sequences of Scream 4 as well as the TV movie Fear Island. And depending on how you feel about teen girls being persecuted and held prisoner by a murderous stalker, you could also say she's been on a scary TV show for seven seasons, too.