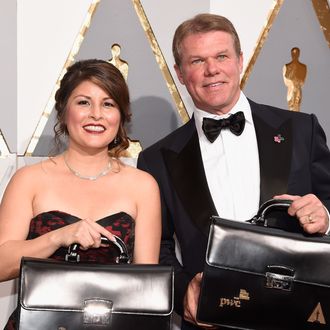 Martha Ruiz and Brian Cullinan.
Photo: Kevork Djansezian/Getty Images
In the days since Sunday night's Oscars ceremony, during which La La Land was incorrectly named Best Picture instead of Moonlight before the mistake was corrected, the fallout has accumulated to frightening levels for the two PricewaterhouseCoopers accounts responsible for monitoring the ceremony. Per TMZ, Martha Ruiz and Brian Cullinan have received death threats over their involvement in the the debacle and have been given security details to protect themselves and their families. Yesterday, the Academy announced that it would not invite the pair back for future Oscars, though they will keep their jobs at the firm; PricewaterhouseCoopers's involvement in future ceremonies is under review. According to various accounts of the snafu, Cullinan was directly responsible for handing Warren Beatty the wrong envelope to announce Best Picture. According to an interview with Oscars stage manager Gary Natoli at the Wrap, neither accountant moved to correct the error quickly once the wrong winner was announced.