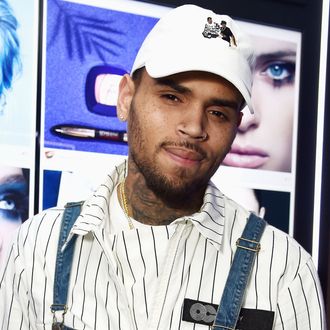 Brown.
Photo: Pascal Le Segretain/Getty Images
For the last two years, most of what's been known about Chris Brown's personal life has either been derived from a spate of lawsuits and criminal investigations, or erratic social-media posts from Brown himself. Now, for the first time, those closest to him – current and former employees, friends, and associates – have opened up to Billboard in what appears to be a last-ditch attempt at staging a public intervention. They paint a dire portrait of a man deep in the throes of a serious and what they believe to be potentially fatal drug addiction. "He's dancing with death," one current member of Brown's team tells the magazine. According to the extensive feature, which relies heavily on unnamed sources for its reporting, Brown has neglected to treat his bipolar disease for at least a year and has consistently abused hard drugs for the last two years.


Empty Styrofoam cups littered the table, a sign that Brown — who hadn't been taking his medication for the bipolar II condition he had been diagnosed with in 2014 — had likely also been sipping lean (a mixture of promethazine/codeine syrup and a soft drink), his comedown of choice after a coke or Molly binge. Brown scrolled through Instagram, hunting for clues about the status of his ex, the 28-year-old model Karrueche Tran. Whom was she with last night, and where? Who was commenting on her most recent photos?

Brown's body guards, many of them since let go, describe having to "stay up late to check Brown's pulse" a year ago. Insiders claim Brown has been operating without a manager or publicist for nearly a year and threatened to "beat up" a female tour manager, who quit immediately after the incident, citing his drug use. They claim Brown's "downward spiral" first started after he assaulted Rihanna in 2009; he entered rehab to no avail in the years after but allegedly was sober for 15 months up until April 2015. That's when members of Brown's team say he relapsed following a breakup with Karrueche Tran. (Last month, Tran was granted a domestic-violence restraining order against Brown following alleged death threats.)
According to the remaining few in Brown's orbit — many of whom reportedly couldn't speak due to "nondisclosure agreements or fear of Brown's retaliation" — Brown is now mostly estranged from his mother, whom they say cares for Brown's daughter when he has custody, and nearly all his friends and staff. They claim his inner circle is now largely members of the Bloods. "You can talk to any drug addict or chemically imbalanced person — it doesn't just go away," says a former friend. "It's something you have to work on. You have to change your lifestyle. And he's not doing the things he needs to do to get well, so he's never going to be well. The kid is going to hit rock bottom."