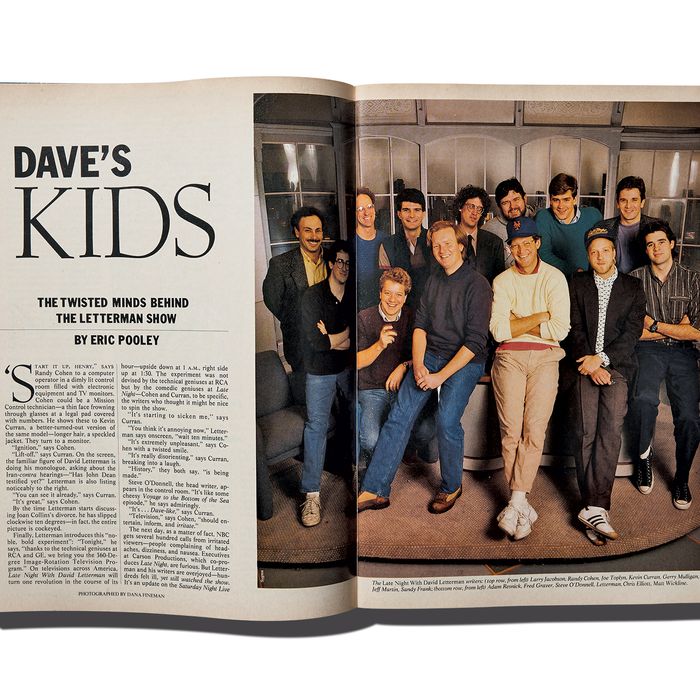 "David's Kids" by Eric Pooley, from the January 19, 1987, issue of New York magazine.
"The Twisted Minds Behind the Letterman Show," read the subheadline on Eric Pooley's story. It ran in New York at what was perhaps the creative peak of Late Night With David Letterman, then marking its fifth anniversary on NBC, where it aired after Johnny Carson's Tonight Show. The difference in sensibility between 11:30 and 12:30 could not have been made clearer than it was on the day Pooley visited the control room of Studio 6A at 30 Rockefeller Plaza. Two of Letterman's writers, Randy Cohen and Kevin Curran, were watching as a technician began slowly rotating the onscreen image of Dave at the start of the show. Over the course of the one-hour episode, the whole show would go through one slow rotation, reaching 90 degrees at 12:45, upside-down at 1:00, and so forth, as Letterman made flight-attendant-ish announcements: "90 degrees. Please, no flash photos."
Yet "twisted minds," despite the slow 360, may have been a slightly wrong description: In Pooley's telling, the writers seemed to be a relatively normal bunch of guys. There wasn't a lot of the antic jumping-on-desks stuff you'd expect from all the stories of Sid Caesar's writers room, or the coked-up mayhem that had by all accounts been part of Saturday Night Live, just upstairs.
Cohen went on to become much more visible as the original writer of the "Ethicist" column in The New York Times Magazine, and lately he has a radio show called Person Place Thing. Recalling his Letterman days, he explains that "it was a very stable staff … The difference at Saturday Night Live was that they had actors. They were permitted their excesses. The only sense I had of a writers room before that was The Dick Van Dyke Show. In real life, it was like civil-service work. You'd come in and put off working and chitchat with your colleagues and went into your office and typed things. And late in the afternoon, you went downstairs, and there were glamorous actresses and trained circus animals."
"It was as if we were writing for a fictional character called Dave Letterman," Cohen continues. "It wasn't so much writing funny lines for him as creating situations for the platonic Dave." As for Pooley's article itself: "You know, I had a writing life before the show, and I was used to getting some attention when something comes out, and writing for TV is anonymous. To get a little attention was thrilling for us. Thrilling!"
At 30 years' distance, the photo above is charming — Dave looks so young! — but what's instantly obvious is its whiteness and maleness. Especially if you know that the co-creator of Late Night, and perhaps of Letterman's TV persona itself, had been the only woman in the writers' corps, Merrill Markoe. She had not only been the head writer but was also in a relationship with Dave; they had reportedly found it too difficult to sustain such an intensely melded life, and she'd just left the show when Pooley visited 30 Rock. She's barely present in the story, mentioned in only a couple of asides. "Today," Cohen says, "it wouldn't be all guys, wouldn't be all white. There was criticism for that at the time, completely deserved. And the show was as much a creation of Merrill as of Dave. Particular pieces that they were still doing in the last week of the show — 'Stupid Pet Tricks' — were all Merrill's. Even when she left the show, the structure, the tone, were all hers. Nobody wrote better for Dave than she did."
*This article appears in the March 6, 2017, issue of New York Magazine.