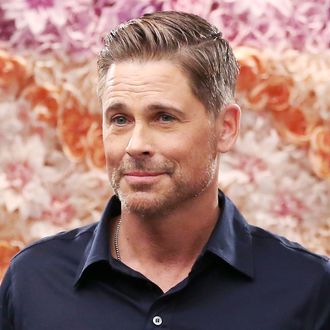 Rob Lowe, extreme dad.
Photo: Rich Polk/Getty Images
Here comes A&E to ruin your childhood with a reality TV Ghostbusters starring Rob Lowe and his two 20-something sons. The network announced today that it green-lit The Lowe Files, a nine-episode series that will take Rob, Matthew, and John Owen Lowe on a tour of the spookiest parts of the U.S. Did you know that Rob Lowe believes in ghosts? Because according to A&E's press release, he's obsessed:
Since I was a kid I've loved unexplained legends, strange phenomena and the scary, supernatural stories told around campfires. When I became a father I shared those tales with my two sons. Together we bonded over Bigfoot, UFO's, and every creepy and bizarre story we could find, passionately debating if they were real…or not. And we swore that someday the three of us would go on our own adventure to find out. That day has come.
See, The Lowe Files isn't really about ghosts; it's about fatherhood. Per A&E's Elaine Frontain Bryant, "Their explorations will certainly lead them to dynamic and exciting places, but a nostalgic journey for a father and his sons is what's at the heart of the series' underlying mission." Most parents just guilt their kids into coming home for the holidays to stave off empty-nest syndrome, but sure, a reality show also works.