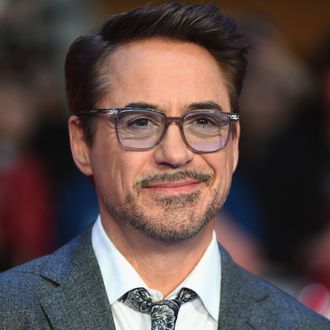 Robert Downey Jr.
Photo: Ian Gavan/Getty Images
Robert Downey Jr. has found his post–Iron Man gig. After he's done donning the suit in the Avengers installments (and Iron Man-ing some more in Spider-Man: Homecoming), he'll be Hollywood's next Doctor Dolittle. Downey will don the stethoscope and talk to animals in The Voyage of Doctor Dolittle, which will be shot after both Avengers installments, according to Deadline. The oddball doctor who prefers animals as his patients originated in the 1920s children's book series by Hugh Lofting. This update will be written and directed by Stephen Gaghan (Gold), from a draft written by Tom Shepherd. In its most recent adaptations, Dolittle was played by Eddie Murphy. In the 1998 movie, Murphy hung out with a guinea pig voiced by Eddie Murphy and a sick tiger voiced by Albert Brooks.
Update, March 28: Robert Downey Jr. will don Dolittle's stethoscope for a May 24, 2019, release date, according to Entertainment Weekly. The May weekend is also the expected opening of Star Wars: Episode IX.