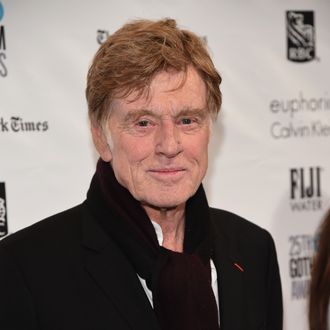 Robert Redford.
Photo: Bryan Bedder/Getty Images for FIJI Water
As the beneficiary of a government grant dedicated to the arts, Robert Redford is a fan of the National Endowment for the Arts. Which means he was not thrilled last week when President Trump's proposed budget cuts included the elimination of the NEA. In an open letter on the Sundance Institute's website, Redford wrote that the NEA "Must Survive and Thrive." He explains:
The proposed defunding of the NEA's budget would gut our nation's long history of support for artists and arts programs and it would deprive all our citizens of the culture and diversity the humanities brings to our country.
This is entirely the wrong approach at entirely the wrong time. We need to invite new voices to the table, we need to offer future generations a chance to create, and we need to celebrate our cultural heritage.
Redford started the Sundance Institute in 1981, partially with grant money provided by the NEA. The Sundance Institute has since supported thousands of American independent filmmakers in creating their original works. The Sundance umbrella has also grown to include the prestigious Sundance Film Festival, which Redford cites as bringing millions of dollars to Utah during the ten-day annual festival. The NEA originally supported the Sundance Institute with a $25,000 grant.