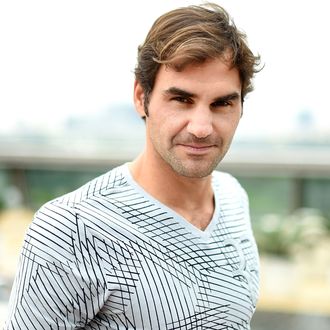 Photo: Tom Dulat/Getty Images
Roger Federer may go down in history as one of the tennis greats, but his taste in movies, according to a new GQ profile, is not among one of his gifts. When Federer invited the magazine into his Swiss mountain chalet, he dropped several hints that led us to believe that though he has plenty of trophies and endorsements, he might actually be a little uncool:
Roger Federer doesn't just like movies, he loves them. He "lives them," he said. He can't imagine falling asleep during a movie. "How do people do this?!" In fact, the night before the Nadal final in Melbourne, he and his family watched Lion, the story of a boy who accidentally journeys alone to Calcutta, then after 25 years returns home to find his family. It's a tearjerker—"and by the end I was a wreck!" Federer shouted, laughing. "And then I was like, 'Is it good to be emotionally so wound up? After all, tomorrow may be a very emotional day!'"
Like everyone else with a pulse, Roger Federer got real weepy after watching Lion (if only GQ asked where he stood on Dev Patel's beautiful mane of hair). This would feel very "Celebrities! They're just like us" except for Federer's next confession: The Swiss star "liked La La Land, except for the ending." What's next? Federer liked Arrival, except for the aliens? Logan, except for the mutants? Stick to tennis, bruh.