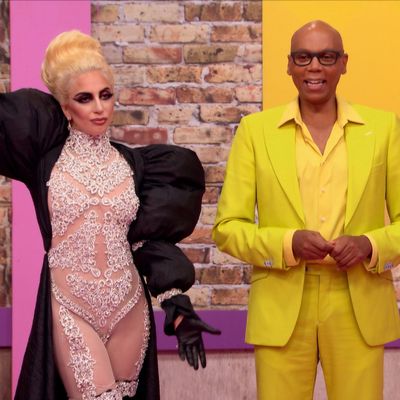 Lady Gaga, RuPaul.
Photo: LOGO
Hallelu, ladies! The best reality-based competition show is back and I'm here to break it down for you every single week. Some of you think I'm the worst, while others think I'm wry and bitchy in all the right ways, so I guess that makes me the Michelle Visage of Drag Race recapping. What an honor!
It's hard to judge any reality show by the first episode of the season, as they're usually full of tedious introductions to the various bits of cannon fodder you'll have to sift through before the core cast of contenders emerges. RuPaul's Drag Race is generally the exception to this rule because each queen's introduction does a much better job of setting up both their individual aesthetic and skill set — much better than say, Top Chef.
That's not to say there isn't cannon fodder spilling out at the seams of season nine. While I think we're in store for a strong season, there're bound to be queens in the bunch who fail to make a distinct impression (just four hours after watching this I'd completely forgotten about Charlie Hides) and will struggle to find any distinction in such a large field (especially if we get another challenge like tonight's). Which is what makes Ru's decision not to send any queens home so especially frustrating. Announcing this little twist at the top of the episode is a doubly bad idea, robbing the runway challenge of any stakes at all.
There are plenty of memorable moments as the girls enter one by one, each presenting a sort of thesis statement both literally (with their mouth holes) and figuratively (with their looks), as well as peppering each other with timid, camera-conscious shade. Nothing feels quite real yet because there's no context to most of it. It's telling that the few queens who bring existing rivalries to the competition save their acidity for the confessionals and not the work room. (For now, anyway.) Of the bunch, Valentina, Eureka, and Farrah Moan all manage to stand out among the group, each grabbing at a chance to carve out their niche early.
Valentina is giving me serious Joslyn Fox vibes, but with a Laganja-esque lack of self-awareness that will surely do her no favors as the competition progresses. At only ten months in, Valentina must be one of the youngest queens (in drag years) the show has ever featured. If she's open and humble, she might learn a thing or two from the more seasoned queens (see: Adore and Bianca), but let's be real. She's going to be a huge, overconfident monster and the veterans already want her gone.
The thing I love about this show is the sense of community you get from the queens. These aren't just random gay men who are playing dress-up on the weekend — this is an industry and you can feel the sense of history that these girls represent. Which brings us right along to Eureka and Farrah Moan. Eureka is an early favorite for many in my circle and it's not hard to see why. She's certainly got attitude and talent for days. (I recommend looking up a video of this gal giving a twirl on the stage. The bitch can dance.) But unfortunately, most of her shade in this episode is coming from a defensive, self-conscious place, as illustrated by her immediate and complete surrender to the transformative power of Lady Gaga. If she can channel that authenticity, I can certainly see Eureka in the final three.
I'm not sure why I decided to devote an entire paragraph to Farrah Moan, to be completely honest. When I think about the queens who stood out personality-wise, I'm forced to admit that her whining and overconfidence struck me as funny, although I have her pegged in my mind as an early exiter. After spending barely a few minutes with her, I couldn't help but see her as the unholy combination of Jade Jolie and Derrick Barry. Doesn't that just sound awful now that you've read that?
Before I move on, I should be completely transparent with you, my dear readers. I will of course be stanning for various queens throughout the season, as is my God-given right as a citizen of this great country, but full disclosure: I've already selected a winner in my mind and it's not just because of her (very good) performance in this episode. Shea Couleé and I actually went to high school together, where we famously starred in a production of Little Shop of Horrors — he was the Audrey II to my Seymour — and we've remained on good-enough terms that I cannot help but inform you early and often that this bitch is gonna slay in ways you aren't prepared for. I'll do my best to judge her fairly along with the rest of this busted lot, but just know I'm in no way a fair or impartial judge. I mean, I'm a recapper. The stakes are very, very low.
Let's move on to this week's runway challenge which is, well, bad! The queens are tasked with coming up with two separate looks as a part of the Miss Creative Uniqueness Nerve and Talent Pageant. Why they waste a pageant theme on what is essentially a double-look runway challenge is beyond me. But uttering the P-word sends the queens into an excited tizzy, even though many had been denying their pageant-queen status only a few minutes before. There seems to be a bit of a stigma around pageant queens nine seasons in, which would almost be understandable if Alyssa Edwards, one of the top-five queens in Drag Race history, weren't the biggest pageant queen of them all.
The first look is supposed to represent each queen's home city, while the second task is re-creating an iconic Gaga look. Luckily, they all fare pretty well in the second half of the challenge, so we are not treated to a meat-dress rehash of season eight's kimono-gate. That being said, few of the queens do much with either prompt. Moreso than any other season I can remember, I'm left with very few impressions of any of them.
What we are treated to, however, is a very specific rundown from Gaga herself about every look that walks the runway. Mileage may vary for you: Rabid Gaga fans will salivate at the sound of a raspy Gaga recounting the mechanical specifications of a Jim Henson dress, while more moderate fans like myself may be left wishing more screen time were devoted to the actual drag queens. But to each his own, don't @ me.
In the first round, we're treated to a few uninspired references, a couple of Statue of Liberties, a Panama City Beach spray-on T-shirt from Trinity Taylor, and a horrifically nightmarish, no-good, retina-melting peach ensemble from eventual winner Nina Bonina Brown. She is either a genius or totally insane, and she will stick around way longer than I'm comfortable with.
The queens all play it fairly safe for their Gaga looks, opting to completely re-create various iconic looks rather than reimagine and interpret them. This may very well have been the prompt, but it certainly doesn't produce anything truly inspiring. Only Aja steps somewhat out of the box for both looks, though, I can't say either will stay in my brain for very long when compared to out-of-the-box runway looks from seasons past.
With only a few tepid critiques from each judge, it's hard to really tell who is in the bottom three here — but that doesn't matter, remember? No one leaves us this week and no one goes into next week feeling any heat. With the addition of a 14th mystery queen (whose identity you can uncover if you lurk around Reddit for long enough, you impatient little slut), the whole episode left me with a tremendous case of Drag Race blue balls. Did anything happen this week?
Perhaps I'm being too harsh. The show, even at its least exciting, is still very, very good television. There is, of course, something to be said for how we'll all be watching this now. Sitting at home alone and watching a screener on my laptop is a far cry from the rowdy bar or gay-filled living room you've hopefully found. That energy has always enhanced the pleasure of this show for me, like it would any thinking or feeling fan of good things, I assume. Though Drag Race's baffling move to Friday nights might make it difficult to watch live in either context, for all our sakes, let's hope this season becomes something we can all enjoy, no matter where we are.