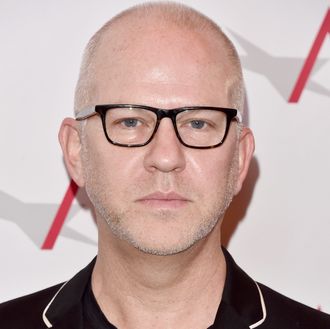 Ryan Murphy is very busy.
Photo: Alberto E. Rodriguez/Getty Images
Not to sound like Ryan Murphy's mom, but we're really worried Ryan Murphy isn't getting enough sleep. Today, the prolific writer and producer announced plans for a new series at FX called Pose, which will be set in 1986 and "examines the juxtaposition of several segments of life and society in New York City: the emergence of the luxury Trump-era universe, the downtown social and literary scene and the ball culture world." Murphy will produce Pose with his fellow American Crime Story producers Nina Jacobson and Brad Simpson. The show is supposed to star "largely new and unknown performers" and come out in 2018.
But Ryan Murphy has a lot on his plate. If you were wondering just how much, let's keep track of it all in one place. In addition to Pose, Ryan Murphy is also working on:
Season seven of American Horror Story, which is inspired by the 2016 election, but will not directly focus on the major political players.
Season two of American Crime Story, which will focus on Hurricane Katrina and star Annette Bening as Louisiana governor Kathleen Blanco, and Matthew Broderick as FEMA director Michael D. Brown. Sterling K. Brown and Sarah Paulson may also appear in unknown roles.
Season three of American Crime Story, which will focus on the murder of Gianni Versace, and star Edgar Ramirez as Versace and Darren Criss as his killer, Andrew Cunanan.
Season four of American Crime Story, which will focus on the Monica Lewinsky scandal and may star Sarah Paulson.
Press for season one of Feud, which is currently airing.
Season two of Feud, which will focus on the tension between Prince Charles and Princess Diana and is currently being cast.
Season three of Scream Queens, depending on whether or not the show is actually renewed.
A TV project called One Hit Wonders with Gwyneth Paltrow. It was announced in 2015 and is about a girl group, but it understandably may have fallen by the wayside.
That is, at this moment, at least seven different shows, if you count all the anthology seasons separately. That is a lot of shows!