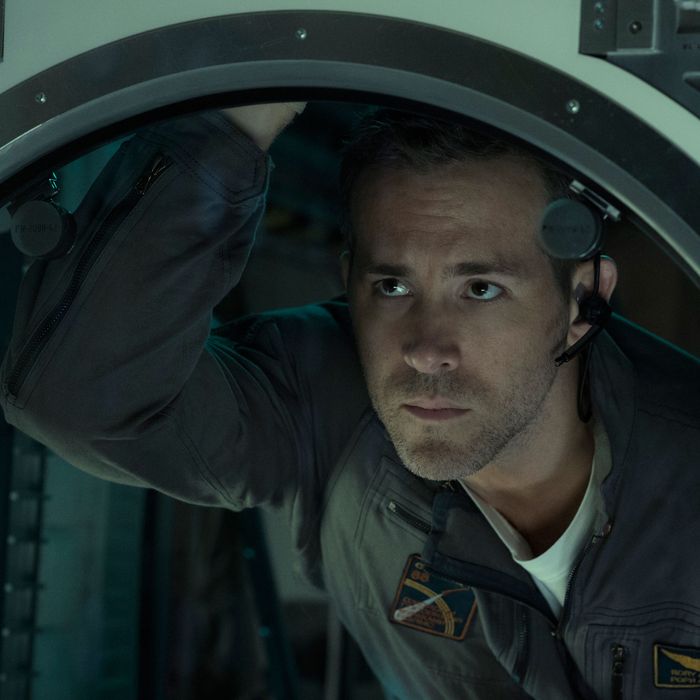 Ryan Reynolds in Life.
Photo: Alex Bailey/Columbia Pictures
The Main Story
It's no secret that studio filmmaking has moved further and further in the direction of movies based on familiar intellectual property, and away from original ideas developed exclusively for the screen. Because of that, each new standalone release becomes more and more interesting for what it says about the viability of original movies in the marketplace, particularly when they're populated with the kind of actors who you expect to bring in an audience. And what the performance of this weekend's Life says isn't great.
Last year contained a number of successful original films — including the Ben Affleck–starring The Accountant, Damien Chazelle's La La Land, and the ensemble comedy Bad Moms. (Though since it was based on a short story, you could probably throw Denis Villeneuve's Arrival in there, too.) In fact, you could argue that 2016 was a strong year for non-IP film, especially when you include horror entries like Lights Out, Don't Breathe, and The Witch. But there were still a number of original films that struggled even with a movie star or two involved: Shane Black's well-reviewed, Ryan Gosling–starring The Nice Guys comes to mind, as does Robert Zemeckis's Brad Pitt–Marion Cotillard romance Allied.
Most relevant to Life, though, is Passengers, the Morten Tyldum–directed vehicle for two of our best-liked actors, Chris Pratt and Jennifer Lawrence, who spent the movie falling in love onscreen, in space, before our adoring eyes. Sounds like a home run, right? It wasn't, or not quite: After opening to a disappointing $15 million three-day take over Christmas weekend, Passengers ended up with just under $100 million domestically. For a film with a $110 million production budget that starred two of the most famous human beings on the planet, that's disappointing (though, in a testament to the value of Pratt and Lawrence, it did manage to bring in nearly double that internationally, giving it a respectable worldwide total $295 million).
Like Passengers, Life is set in space. Like Passengers, Life stars a pair of actors who you'd consider, if not A-listers, then at least A-list adjacent, Ryan Reynolds and Jake Gyllenhaal. Like Passengers, Life was released by Sony. And like Passengers, Life struggled on its opening weekend. Its $13 million debut was fourth on the weekend, trailing the megahit Beauty and the Beast as well as Power Rangers and Kong: Skull Island — all, notably, adaptations of incredibly familiar properties. Life's budget was a relatively modest $58 million so the road to profitability still exists, but its opening has to be considered an underachievement, especially after solid reviews, a buzzy rumor tying it to the just-announced Spider Man spin-off Venom, and Reynolds and Gyllenhaal working the press circuit hard to promote it. (At times the pair seemed like they were producing a new viral video every day last week.) While the blame can't be placed on the shoulders of the two stars — hell, for all we know, it might have 100 percent to do with that ultra-generic title — it reinforces the idea that a few famous people, a decent movie, and the inky blackness of space just doesn't cut it anymore if you're an original property, particularly when Get Out is playing just down the hall.
What Else Happened?
Well, Beauty and the Beast made a disgusting amount of money. Bill Condon's live-action adaptation of the landmark animated-musical had a second weekend even better than its record-setting first: its $88 million is the fourth-biggest second weekend of all time, giving it $315 million so far domestically — more than all but nine movies grossed in their entire runs last year. And it's made even more overseas, giving it a total of $690 million worldwide. (Condolences to Logan, whose brief reign atop the year's box office didn't last long.)
Elsewhere, Power Rangers delivered a nice opening of $41 million, plus a very positive A+ Cinemascore among audiences under 18, a sign that it's performing strongly with its target demographic. And Kong: Skull Island showed another strong hold, adding $14 million, with its worldwide total rising to $392 million. Notably, its $72 million opening in China is nearly equal to what Godzilla grossed during its entire run in the country as it chases that film's $529 million total.
Get Out should pass the $150 million domestic mark this week after taking in just under $9 million in its fifth weekend of release. T2 Trainspotting expanded to 59 theaters and grossed more than $6,000 per as it prepares for wide release, having already made $21 million in the United Kingdom. And the two other noteworthy debuts of the frame didn't fare well: Dax Shepard's R-rated comedy CHiPs made a little below $8 million, and Fox Searchlight's Woody Harrelson–starring Wilson only took in $1,065 per theater in its limited release, for $330,000 total.