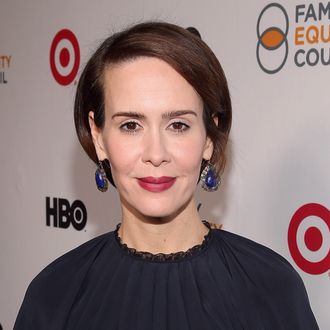 America's sweetheart.
Photo: Jesse Grant/Getty Images for Family Equality
After six seasons of American Horror Story, it's only natural Sarah Paulson has grown attached to many of her characters (no pun intended regarding conjoined twin sisters Bette and Dot). But at the closing night of PaleyFest on Sunday in Los Angeles, Paulson revealed which character she'd most like to reprise: "Probably Cordelia. We only got to see her just getting her powers," Paulson said of her Coven character. "I just would like to know … if the power might have been something that kind of changed her. Maybe we'll get to see that."
Though executive producers Brad Falchuk and Tim Minear kept most of their plans for the future of the show under wraps, Falchuk did have some nice things to say about Paulson: "What I find most fun writing for Sarah is characters that, if Sarah wasn't playing them you would really not like them. But she makes them so likable."
Yeah, duh. Has Sarah Paulson ever been not likable? We look forward to AHS seasons seven and eight, where, if it were up to us, Paulson could reprise whatever characters she wanted to, including Marcia Clark.