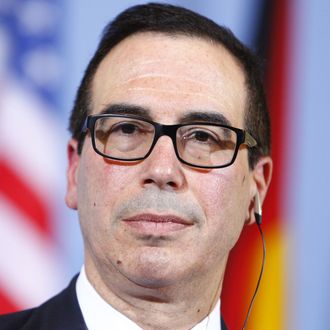 Producer of Lego Batman.
Photo: Michele Tantussi/Getty Images
Treasury Secretary Steven Mnuchin would never promote The Lego Batman Movie because it would violate a whole bunch of federal ethics laws, unless of course you asked him what movie he'd recommend, in which case he would totally promote it. When interviewed by new media start-up Axios's co-founder Mike Allen about which current movies he'd recommend, Mnuchin answered, "I'm not allowed to promote anything that I'm involved in. So I just want to have the legal disclosure, you've asked me the question, and I am not promoting any product. But you should send all your kids to Lego Batman." Mnuchin was not in a giant Lego Batman costume when he said this, but if you ask him, maybe he'll don one.
As executive producer of Lego Batman and co-founder of RatPac-Dune Entertainment, and also, you know, the United States secretary of the Treasury, Mnuchin would be wise not to publicly endorse films that RatPac receives income from, as he may not yet be fully divested from the company. But hey, if Mike Allen is still looking for some movie recommendations, that's what we're here for.