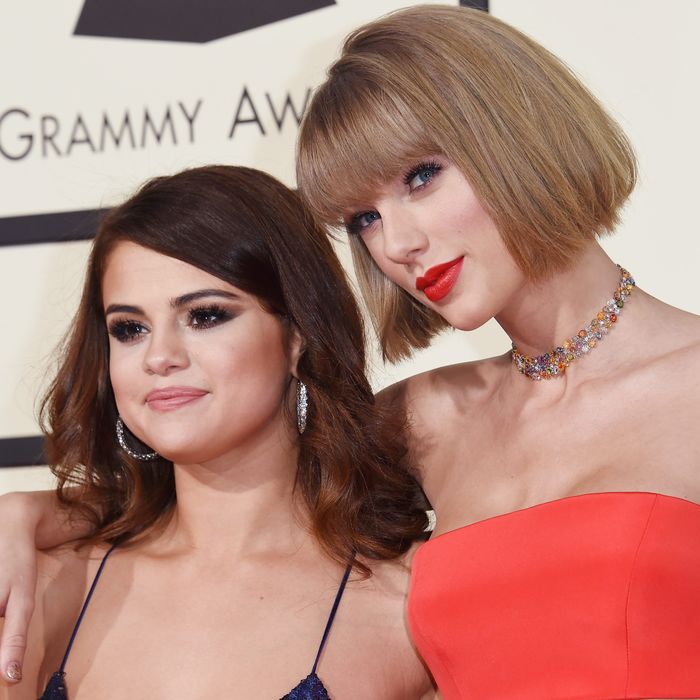 Selena Gomez and Taylor Swift.
Photo: VALERIE MACON/AFP/Getty Images
In her big Vogue cover story, internationally famous pop star and Pantene person with good hair Selena Gomez reveals she has settled into the life of a hermit. She lives, according to Vogue, "in an Airbnb in the Valley and honestly doesn't get out much, except for long drives with her girlfriends: a realtor, a techie, some folks from church." While we'd of course love to hear more about Selena's We Are Your Friends–style life in the Valley with the normals, we were most interested by the tidbit that follows: She has severely trimmed her list of phone contacts. "I think seventeen people have my phone number right now," Gomez said. "Maybe two are famous." But which two famous people? We have a few guesses.
Most Likely
Taylor Swift
For years, Selena was Taylor's No. 1 squad member, a fixture at all the most important Swift soirees and other gatherings. But the two haven't appeared together on Selena's Instagram since last year's Grammys, and Gomez didn't show up to Taylor's latest Fourth of July bash. But regardless of whether Selena and Taylor are that close, there's no world in which Taylor doesn't have anyone who knows as much about her life as Selena does on speed dial.
Justin Bieber
You just know Bieber is the kind of ex to drunk-dial. Having his number saved is the quickest way to screen his calls and ignore his texts (which are, without a doubt, lyrics from his own songs: "Is it too late now to say sorry?" or "My mama DOES like you!"). Now that Selena says she's "ghosted" Instagram (a.k.a., given her assistant control of the account), it's a lot easier to just text JB her commentary than leave her thoughts in his comments.
The Weeknd
Selena and the Weeknd have been doing a lot of kissing in public and hand-holding at select Dave & Buster's locations as of late, though neither has confirmed they're an item. If you've reached the D&B level of a romance, you definitely have Selena's number.
Chloë Grace Moretz
One night last July, Kim Kardashian ethered Taylor Swift. Taylor hasn't recovered yet, but the Snapchat leak really exposed Selena and Chloë Grace Moretz as misguided sisters-in-arms on the front lines of Taylor's defense. "There are more important things to talk about … Why can't people use their voice for something that fucking matters?" Selena probed. "Stop wasting your voice on something so petulant and unimportant," CGM prodded. Neither squad member made it through the night unscathed, so maybe they check in on each other every now and then, just to remember the night they decided to take one for the team.
Potentially
One, but not both, of the famous Jonas brothers
They all went through the Disney system together, and still have a lot to talk about. Selena's assistant has Nick's assistant's number in case of any professional collaboration, but since Nick is so busy, she might find a more receptive confidante in the comparatively less famous Joe. (Selena definitely has Kevin's number but does not consider him famous.)
Demi Lovato
Since their first days on Barney & Friends, Selena and Demi's friendship has gone through more ups and downs than Selena's favorite roller coaster. The two had grown apart by 2010, when Demi insisted a fan should "ask Taylor" about how Selena's doing, though Demi's since said her main gripe was about Selena dating Justin. While we don't imagine Selena and Demi ever text, we could see Selena's having Demi's number at the ready post-breakup if Justin ever does anything that goes too far.
Orlando Bloom
Selena and Bloom are often linked in tabloid rumors and a few great paparazzi photos, so perhaps she's reached out to check in with him after his breakup with Katy Perry. (Given their Twitter friendship, Selena might have Katy's number, too, but we imagine Katy burned her phone and all other possessions after getting woke.)
It's Possible
The teens in the cast of Netflix's 13 Reasons Why, which Selena executive produces
Counterpoint: Said teens are not actually famous.
Kate Walsh, who stars in 13 Reasons Why
Wouldn't you want an inside line on Grey's gossip?
Kygo, the Norwegian DJ with whom she recently collaborated
They mostly talk about their favorite moments in Skam.
Sarah Hyland
Sarah has to have a direct line to Selena, just to clarify when they've been mistaken for one another. (Sometimes Sarah has to loop Lucy Hale in, but second-string look-alikes aren't privy to Selena's number.)
Vanessa Hudgens
In case they need to reminisce about Spring Breakers and/or work through post-Franco stress.
Dr. Richard H. Thaler, father of behavioral economics
People who cameo in The Big Short together, stick together — and you know Selena tends to have late-night thoughts about the housing market.