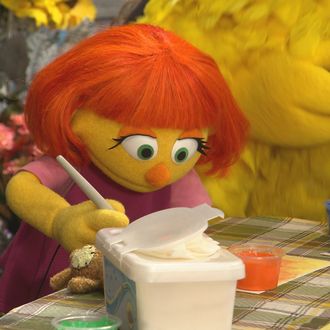 Julia, the first muppet with autism.
Photo: Sesame Street
Sesame Street is providing a different kind of lesson with the introduction of its newest Muppet, Julia, who has autism. As was revealed in the lead-up to tonight's 60 Minutes, which has a segment discussing the addition, the character will arrive in the neighborhood come April.
Julia was first introduced in 2015 as part of an online-only Digital Storybook story called "Sesame Street and Autism: See the amazing in all children," in which she has a playdate with Elmo and Abby. Now the fully realized Muppet version of Julia will feature on the long-running children's show. Julia's gender is thought to be particularly significant, since some autism researchers believe the condition is underdiagnosed in girls.
When Julia first appears on the show she'll be introduced by Elmo and Abby Cadabby to Big Bird. She'll be hesitant to shake the friendly yellow giant's hand, but Elmo explains to Big Bird that since Julia has autism, "sometimes it takes her a little longer to do things." From there, the four friends learn how to play together in a way that everyone has fun.
While creating Julia's character, Sesame Street's creative team was sensitive to the complex nature of the condition. "It's tricky because autism is not one thing, because it is different for every single person who has autism," said Christine Ferraro, a writer for the series. The team consulted with autism organizations, educators, and families on how to portray a child with autism and explain the condition to young children. That meant that every detail of Julia's muppet – from her eyes, which should have an "intense look" but still look friendly, to her clothes, which are free of distracting bows and buttons – was seriously considered.
The puppeteer who plays Julia, Stacey Gordon, has particularly personal ties to her story. "As the parent of a child with autism, I wished that [Julia] had come out years before, when my own child was at the Sesame Street age," she said.