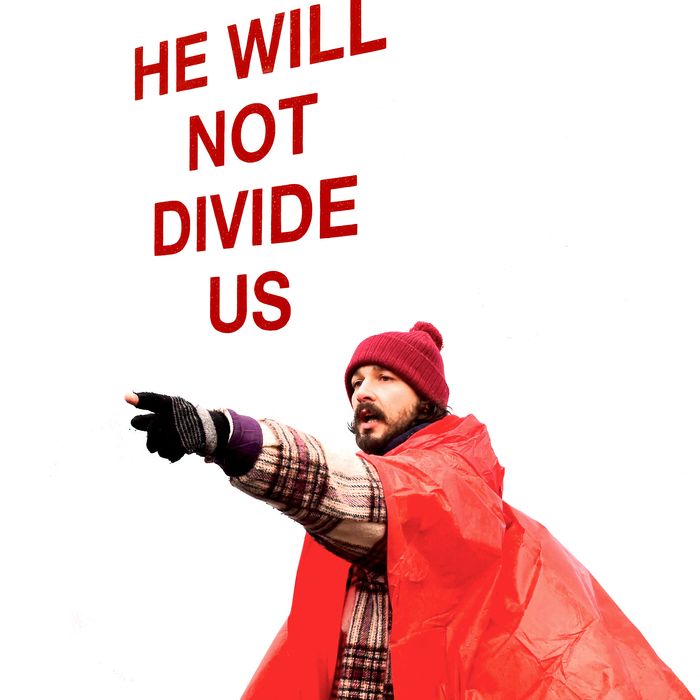 Photo-Illustration: TIMOTHY A. CLARY/AFP/Getty Images
It's not news that Shia LaBeouf fancies himself a tortured artist. But the election of Donald Trump to the presidency spurred LaBeouf to use his art to make a political point, launching the four-year performance-art piece HE WILL NOT DIVIDE US on Inauguration Day. The exhibit, which essentially is a webcam mounted on a wall, invites people to chant "He will not divide us" into the camera, which is livestreaming the event around the clock. The idea is to repeat the phrase until it becomes a mantra for uniting in Trump's America. So far, however, the piece has ignited so much controversy that LaBeouf and his collaborators, Nastja Säde Rönkkö and Luke Turner, have been forced to relocate the installation a whopping four times due to violence, threats, and good old-fashioned sabotage. Below, a timeline of the controversies and how they've forced the exhibit to change locations.
Stop one: New York City's Museum of the Moving Image
(January 20 – February 10)
LaBeouf kicked off his installation on January 20 at the Museum of the Moving Image in Queens. There were problems almost immediately: Three days into the viewing, LaBeouf got into a physical altercation with a "racist troll" who was spewing white-supremacist slogans at the site. Then, a few more days later, LaBeouf was arrested for reportedly assaulting someone who "provoked" him with a lewd comment. (For that, he faces misdemeanor assault and violation-level harassment charges, with a court date scheduled in April.) Despite the NYPD monitoring the installation on a 24/7 basis, the Museum of the Moving Image ultimately decided to shut the project down on February 10 due to safety concerns, owing to "dozens of threats of violence and numerous arrests." LaBeouf, saying the museum "demonstrated a spectacular lack of judgement" and "bowed to political pressure," now moves West.
Stop two: Albuquerque's El Rey Theater
(February 18 – March 8)
The exhibit's new home at a smaller New Mexico venue didn't last long. In mid-February, LaBeouf was once again faced with safety concerns almost immediately. After the walls were defaced with spray paint that read "Reject False Idols. Do It!", gunfire in the area caused the installation to shut down for a brief period of time. ("We have taken the stream down after shots were reported in the area," LaBeouf wrote in a tweet on February 23. "The safety of everybody participating in our project is paramount.") Despite a lack of disruption following the reported gunfire, on March 8 LaBeouf nonetheless announced that HE WILL NOT DIVIDE US would be moving once again to a "unknown location." It's unclear whether the El Rey Theater dropped the project or if LaBeouf chose to move it.
Stop three: "Unknown location" in America
(March 8 – March 22)
Despite LaBeouf not disclosing where his "unknown destination" was located for the installation — which, for this iteration, involves a flying flag — alt-right 4chan users investigated and discovered the exact location in a day and a half by utilizing flight radars and star positions from the sky in the livestream. The flagpole ended up being on private property in "the middle of nowhere" in Greenville, Tennessee, and the 4chan users replaced the flag with a new one bearing the face of alt-right icon Pepe the Frog. This discovery and amphibious trickery was seemingly enough to prompt LaBeouf to once again move.
Stop four: Foundation for Art and Creative Technology, Liverpool, England
(March 22 – present)
As of March 22, the British museum "adopted the project," with the flag currently flying over the city with no reported disturbances. "Events have shown that America is simply not safe enough for this artwork to exist," LaBeouf explained. Maybe history won't repeat itself this time around.