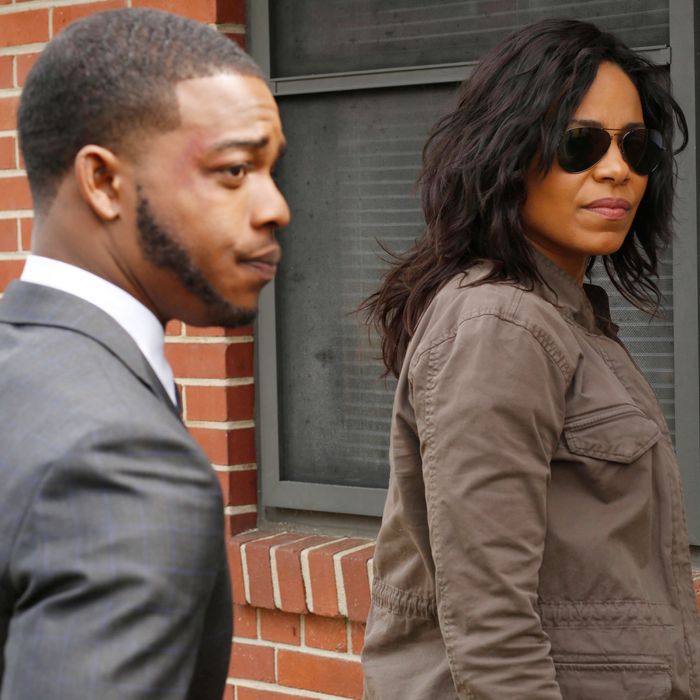 Shots Fired, a ten-part limited series that begins Wednesday on Fox, starts out as an investigation into the police shooting of an unarmed college student. As often happens in actual cases like this, however, the story quickly escalates into something much bigger.
This is a series about a controversial killing by cop that also delves into the ways in which racism intertwines with class, education, the for-profit prison system, politics, religion, and the struggle for social justice. As realized by creators Gina Prince-Bythewood (director of Love & Basketball and Beyond the Lights) and her filmmaker husband Reggie Rock Bythewood (Biker Boyz), Shots Fired is admirably ambitious and impeccably cast, if occasionally hampered by some overly conventional narrative choices. It's a very good show — only in a TV landscape where the bar is now set so high does it just miss earning a "great."
Like ABC's American Crime, Shots Fired commits to telling its story from multiple angles that are constantly adjusted for clarity. In a script flip on what typically happens in high-profile shootings, the initial incident involves an African-American sheriff's deputy (Mack Wilds, who played Michael on The Wire) firing the shots that kill Jesse Carr, a white college freshman pulled over while driving through a predominantly black North Carolina neighborhood. (Coincidentally, American Crime also takes place in North Carolina this season.)
When Justice Department investigator Ashe Akino (Sanaa Lathan) and special prosecutor Preston Terry (Stephan James) show up to determine whether the deputy was at fault, they learn that a young black man named Joey Campbell was recently killed by a white officer, with limited public follow-up or outcry. Suddenly they have two potential cases on their hands, along with the possibility of a federal inquiry into widespread police corruption and interactions with a governor (Helen Hunt) determined to address community concerns while protecting the state's reputation.
Lathan and James, who played Jesse Owens last year in Race, serve as solid dual anchors for what transpires. It's especially satisfying to see Lathan getting the sort of lead role her charisma has long demanded. As Ashe, a former cop facing a contentious custody battle, she steeps herself in a sense of melancholy and buried fury that's palpable in every scene.
Every time you think you have a firm read on the characters in Shots Fired, they do something that makes you rethink that assessment, whether it's community pastor and activist Janae James (Aisha Hinds), a Black Lives Matter champion who also seems interested in elevating her profile, or police lieutenant Breeland (True Blood's Stephen Moyer), an intimidating, good 'ol boy who's either wildly unethical or just misunderstood. The cast is, across the board, very strong, with some of the most moving work coming from DeWanda Wise and Jill Hennessy as, respectively, Shameeka Campbell and Alicia Carr, the mourning mothers of the two victims who inevitably become political pawns, much like real-life victims Trayvon Martin, Laquan McDonald, and Tamir Rice, among many others.
Each of those tragic deaths is referenced both explicitly and generally, as tensions switch from simmer to boil, leading to more and more protests. We've seen these situations play out all too often on the news, but Shots Fired, which features the work of well-known directors such as Prince-Bythewood, Kasi Lemmons, and Jonathan Demme, adds deeper context by allowing us to get to know the players involved. The series has a knack for highlighting social inequities in ways that are subtle — in episode one, establishing shots of the small town are set to the tune of E-40's "Choices (Yup)," with images of nicer homes flashing alongside the word "Yup" and not-so-nice ones getting a "Nope" — and more overtly dramatic, particularly when a riot descends into violence.
Shots Fired feels less daring and more predictable when it goes into procedural mode, which it does often as Ashe and Preston engage in excessive amounts of door-knocking to track down witnesses and informants. (Within the first six episodes Fox made available to critics, both Lathan and James become experts at flashing the "Yeah, I ain't buyin' it" look when their characters hear information that rings false.) There are also some romantic subplots that feel largely unnecessary and tonally out of alignment with what the rest of the series is trying to do.
Unlike the aforementioned American Crime, which airs at 10 p.m., or a cable show like HBO's The Wire, Shots Fired airs at 8 p.m. on Fox as a lead-in to the soap operatic Empire. Given that positioning, the series seems to feel a responsibility to appeal to the masses while also tackling much more difficult and socially relevant issues. I wish it didn't feel the need to lean toward more commercial mainstream fare as often as it does. But if the more traditional touches make Shots Fired more accessible, perhaps that means more people will absorb the moments that remind us how much America still has to do to become a place where there's truly liberty and justice for all.