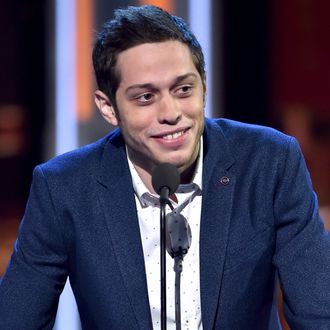 Pete Davidson
Photo: Alberto E. Rodriguez/Getty Images
On Monday, Pete Davidson, Saturday Night Live's 23-year-old dependable utility player, revealed on Instagram that he is now sober after a difficult journey with drugs. "Just wanted to let you guys know I'm okay," Davidson wrote. "I know I've kinda been missing, on social media and on the show. I quit drugs and am happy and sober for the first time in 8 years." Davidson cited the support of his girlfriend and friends for helping him stop drugs:
It wasn't easy, but I got a great girl, great friends and I consider myself a lucky man. I'll always be here for you guys, I promise. Remember to never give up hope because sometimes that's all we got. We are a family and I appreciate all your love and support.
As People notes, Davidson had previously been open about his regular usage of medical marijuana to treat Crohn's disease. The actor said that it was the only medication that helped with his appetite loss.