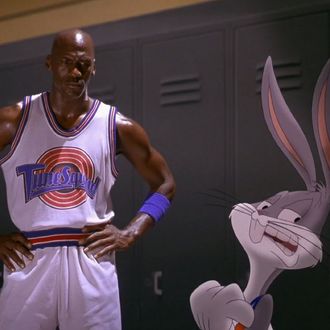 Michael Jordan, Bugs Bunny.
Photo: Warner Bros. Pictures
Just as R. Kelly believed he could fly on the Space Jam soundtrack, so, too, do the organizers of Record Store Day believe that the Space Jam soundtrack will touch your wallets. Now that the 1996 soundtrack is old enough to drink, the six-times-platinum album is getting an exclusive, limited-edition vinyl release on Record Store Day (April 22), along with the usual suspects (the Smiths, David Bowie, Lou Reed, Prince, and other fixtures of vinyl collections). The album, which peaked at number two on the Billboard 200 chart, includes the aforementioned megahit "I Believe I Can Fly" and songs by Coolio, D'Angelo, Salt-N-Pepa, and more. As it turns out, you need a lot of superstar 1990s hip-hop and R&B artists to supply the tunes if you're a Loony Tune hoping to send the Nerdlucks back to outer space.