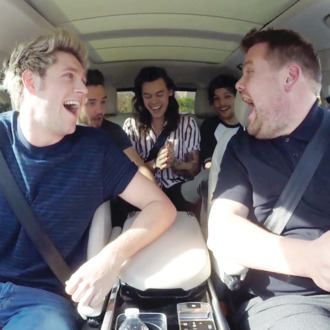 Don't even get me started on bicycles.
Photo: Bret Hartman/CBS
Prestige television, step to the side: Welcome to the golden age of car TV. Spotify, which is apparently doing original video stuff now, announced plans today for a new series called Traffic Jams, which combines two things that are perfect for television — automobile traffic and "well-known hip-hop producers and rappers" who will produce "jams" in the backseat of a moving car. "This is ridiculous!" you might say. "People shouldn't make music in a moving vehicle." Well, clearly, clearly, you are not a savvy Hollywood type, because everyone knows the future of shareable content lies in putting talented people in automobiles. From moving-vehicle quiz show Cash Cab, which ran from 2005 to 2012 and is now being revived on the Discovery Channel; to Jerry Seinfeld's Comedians in Cars Getting Coffee, which is now moving from Crackle to Netflix; to James Corden's smash hit Late Late Show bit Carpool Karaoke, which is becoming a series for Apple music, this trend is far from over. Suck it, trains!