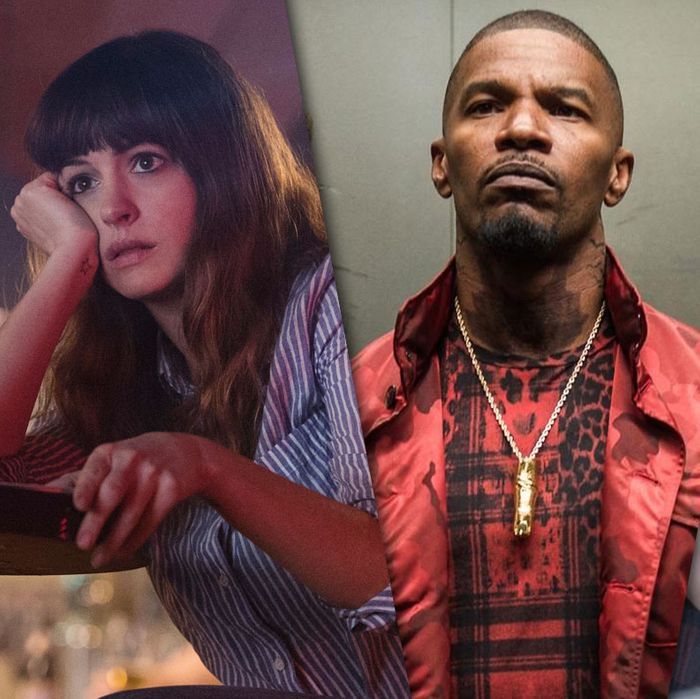 Photo: Toy Fight Productions, Columbia Pictures, Broad Green Pictures
South by Southwest isn't exclusively a film festival, but the music-tech-innovation fest always manages to wrangle up a handful of notable premieres. The indies on SXSW's slate match Austin's ethos: If they're not earnest and artistic, they're definitely weird. Terrence Malick's Song to Song is the biggest world premiere — Michael Fassbender as a modern-day Lucifer! — but there's plenty more to look forward to, including a couple juicy action movies and the story of a music-fueled getaway driver.
Song to Song
Terrence Malick's long-awaited Austin music drama is the highest-profile premiere of this year's SXSW. What we know so far: Ryan Gosling, Rooney Mara, Michael Fassbender, and Natalie Portman star as two couples whose relationships get tangled in the Austin music scene. Peppered into this story of love and betrayal are cameos from a bunch of musicians (and maybe even Moonlight star Trevante Rhodes). Song to Song could be an exciting chapter in Malick's newly prolific period: After making only five movies between 1973 and 2005, this is his fourth feature since 2011.

Baby Driver
Edgar Wright's latest is a music-fueled, baby-faced heist movie. Ansel Elgort stars as Baby, a getaway driver (hmm) with tinnitus — a chronic ringing in his ears, as you may remember from Archer — ready to step away from his life of crime for his crush (Lily James). Not exactly the world's most groundbreaking plot, but Wright's always good for an original vision, and he's gathered an impressive cast, including Jamie Foxx, Jon Hamm, Eiza González, and Kevin Spacey as a crime boss.
Colossal
If you missed the world premiere of this Anne Hathaway oddball comedy at Toronto last year and again at Sundance earlier this year, Austin is your third chance. Hathaway plays a reformed party girl with a hilarious mystical connection to a monster that's stomping through streets of Seoul. The premise is intentionally goofy, but its real-world connection isn't: Director Nacho Vigalondo told Vulture that the movie is really taking on the trope of the Angry White Man.
Hot Summer Nights
It's the year of Timothée Chalamet coming-of age-dramas. This time, the Call Me by Your Name breakout plays a teen boy spending his summer on Cape Cod in 1991. He's got a crush on It Follows star Maika Monroe, and gets caught up in a New England drug ring. Elijah Bynum directed the feature from his script, which made the 2013 Black List.
Behind the Curtain: Todrick Hall
A full-length documentary takes you behind the scenes of the prolific musician and choreographer, famous for his viral 70-plus song Beyoncé orchestration and his original live-action Beauty and the Bea(s)t. Directed by Katherine Fairfax Wright, Behind the Curtain: Todrick Hall charts Hall's ascent from small-town Texas to Broadway fame.
Fits and Starts
David (Wyatt Cenac), a not very successful writer, is married to Jennifer (Greta Lee), a very successful writer. When the couple goes to an exclusive publisher's salon, David tries to keep his cool. Surrounded by literary types and pseudo-intellectuals ("a dentist with publishing aspirations, a book critic full of condescending advice, a fellow writer who may know his wife a little too well"), he has to deal with his own struggle with his work. Fits and Starts comes from director Laura Terruso, who co-wrote the sweet Sally Field comedy Hello, My Name Is Doris.
Atomic Blonde
Charlize Theron is doing action movies again, and with one of the dudes behind John Wick! As MI6's leading assassin (James who?), Theron plays agent Lorraine Broughton, an agent described as "equal parts spycraft, sensuality and savagery" — what? — couriering state secrets. This is the latest offering from David Leitch, the Wick co-director who's good at making gory action movies very fun to watch.
Free Fire
Free Fire promises a lot, including but not limited to Armie Hammer wearing a beard and a turtleneck. High-Rise's Ben Wheatley directs the a stacked satirical action-comedy that seems to have more than a little Tarantino in it. Brie Larson, Cillian Murphy, Sharlto Copley, Sam Riley, Noah Taylor, and more join Hammer for a raucous shootout.