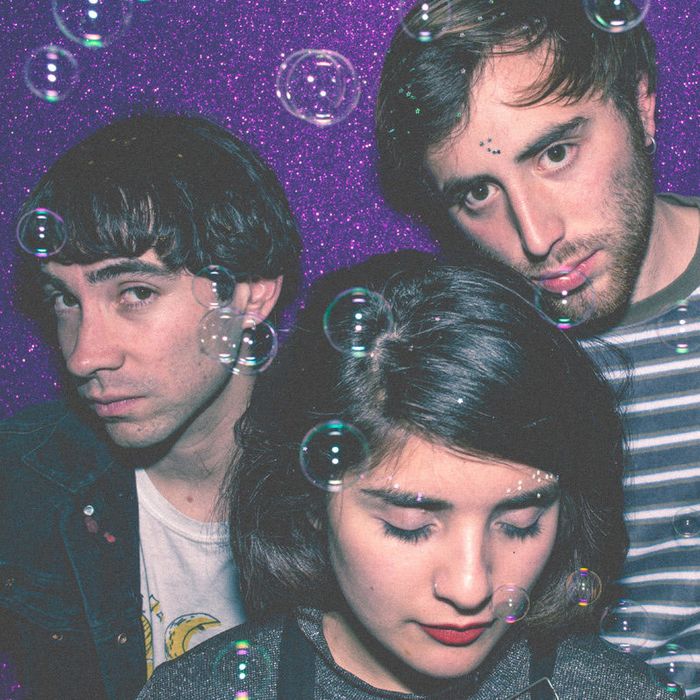 Trementina.
Photo: Future Popes
As South by Southwest kicks into full gear in Austin this week, there's been a gloomy cloud overshadowing the general merriment of the festival: Numerous musicians have been detained (and even deported) trying to make their way to the Texas city, with the confusion stemming from the exact visa needed to perform at the festival. In short, a B-1 or B-2 visitor visa is sometimes used by musicians who enter the country to perform — they're technically classified as tourists, and they cannot be paid, whether or not tickets are sold for their concerts. (Since SXSW is considered a "showcase" event, these visas have, in the past, been acceptable for musicians performing at the festival.) However, border-patrol agents are seemingly eschewing those acquired visas, and seeking P-1 or P-2 visas from SXSW performers instead, which is a performance visa most commonly used by musicians coming into the country. (Though it can be difficult for newer performers coming to SXSW for exposure to prove that they can qualify as big enough artists worthy of the P visa.)
So far, this has affected numerous musicians who planned to perform at the festival, with some of their experiences shedding a very unflattering light on the U.S. immigration system. Below are the stories of every band that has thus far been unable to make it to SXSW due to visa issues.
Massive Scar Era
Genre: Egyptian-Canadian post-hardcore
Three members of the band were denied entry into the country at the U.S.-Canadian border in Vancouver. The border-patrol worker claimed that they didn't have the correct visas — they tried to enter with B-1s — although the band's vocalist and guitarist commented that she had used that visa twice in recent years. "This was the third time," the vocalist, Cherine Amr, explained. "And [the border guard] said, 'Just because this happened before doesn't mean it's lawful.' So I don't know what's lawful anymore."
Trementina
Genre: Chilean rock
The band says they received an email a few days before their flight to the U.S. to inform them that their Visa Waiver Program visas had been canceled; they apparently did not obtain the correct visas. "We tried to contact the U.S. embassy, and they didn't give us any answer or solution. We've lost our plane tickets, a month and a half of shows, and a lot of work and time we invested in it," they said in a statement. "The U.S. won't accept us so we're staying in Mexico where there are a lot of amazing people offering their help."
Soviet Soviet
Genre: Italian post-punk
The three members of the band were detained overnight in jail by border-patrol agents at the Seattle-Tacoma Airport, before being sent back to Italy. They tried to enter under the Visa Waiver Program, which permits Italian citizens to come into the U.S. for up to 90 days as nonworking tourists. The problem, though, seems to stem from the interpretation of unpaid performances as work — Soviet Soviet seemed to believe not being paid for their performances meant they weren't classified as work; CBP disagreed. "They declared us illegal immigrants even if our intention was by no means to look for work in the United States nor never go back to Italy," the band wrote in a statement. "They took our digital fingerprints and took mugshots of us for their file. They confiscated our cell phones and we were denied the possibility of contacting our families and loved ones. Two prison officers frisked us, handcuffed us, and brought us to jail in a police car. We spent the night in jail and had been escorted there as though we were three criminals. The following day, after having completed all jail-related procedures (mugshots, declaration of good health and signatures), two other agents came to get us."
Yung Beef
Genre: Spanish rap
Before getting on his Texas-bound flight, the rapper was stopped at an airport in Barcelona, and he was denied entry to board the flight due to his Visa Waiver Program application. His record label says this was done "without any prior notification," with him tweeting after the event: "Now it's not that they're not letting me in at the club, now they're not letting me enter a country." He, too, apparently did not have the correct visa.
United Vibrations
Genre: English shoegaze
The band's three brothers — the Dayes — were all denied entry into the U.S. with the drummer, Yussef, saying his visa was "revoked at the 11th hour" due to "discrimination based on religion and race." Per a statement from their recording company, the brothers have had their status under the Visa Waiver Program revoked. "We were looking forward to connecting with our brothers and sisters stateside to share our music," they explained in a separate statement. "Why weren't we let in? Our Names? The music? The color of our skin?"
Dan Bettridge
Genre: Welsh folk-rock
Despite being valid until October, the singer-songwriter's ESTA (Electronic System for Travel Authorization) was unexpectedly changed to a status of "not advised to travel," with no explanation for the switch, a few days before he was supposed to fly to Texas. "We attempted to re-apply and it was declined within 10 minutes of submitting the new application online," Bettridge's manager said in a statement. "We'd made certain Dan was performing all official SXSW showcases to ensure he doesn't breach the festival performance contract and only planned to be in the U.S. for one week."