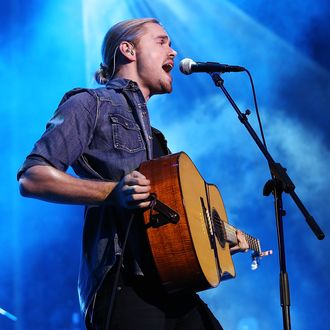 Photo: Phillip Faraone/Getty Images
After scrutiny to SXSW artist contracts resulted in the band Told Slant canceling its SXSW appearance and dozens of musicians signing an open letter to the festival's organizers decrying the contract's allegedly anti-immigrant stance, the festival producers have released a second statement in which they promise to review and amend the contract for "2018 and beyond." The "deportation clause" in question, which says the festival has the right to notify "the appropriate U.S. immigration authorities" should the organization determine that the artist or band have "acted in ways that adversely affect the viability of Artist's official SXSW showcase," angered musicians primarily because it would restrict them from performing at unsanctioned showcases around the festival — a fairly common practice and a way for bands to maximize their time and exposure while at SXSW.
This small victory for musicians comes after SXSW CEO Roland Swenson had previously issued a statement saying that while the contract terms do sound harsh, they are not new, and that they are in effect for the protection of the performers as well as the event itself. While officials did not submit the public apology demanded in the open letter, titled "SXSW IS NOT IMMIGRATION ENFORCEMENT," in the new statement, it does sound like they will be softening the language around repercussions if artists play an "unofficial showcase" that overlaps with the run of the festival.
"SXSW opposes discrimination of any kind, and has taken a public stand against President Trump's travel ban and proposed legislation like SB6 in Texas," the statement reads. "We have and will continue to support human rights for all. In this political climate, especially as it relates to immigration, we recognize the heightened importance of standing together against injustice." Read the response in full here.