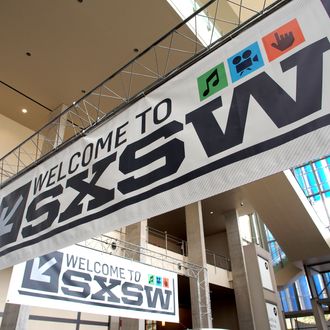 Finally.
Photo: AFP/AFP/Getty Images
After intense scrutiny from the music community and threats of boycotting, SXSW says it will formally drop a controversial "deportation clause" in its artist contracts beginning next year. The festival had previously promised to review and "amend" the language in a section of its immigration clause that would allow the organizers to notify immigration officials if a foreign act on the lineup played a show outside of the festival, threatening them with deportation. SXSW says the decision to remove the clause was expedited in response to Trump's revised travel ban. "In this political climate, especially as it relates to immigration, we recognize the heightened importance of standing together against injustice," the festival says in a new statement. They've issued an apology for the contract's previous language.
SXSW also claims it never had what critics have described as a "deportation clause" and never will: "In the 31 years of SXSW's existence, we have never reported any artist or participant to any immigration agency." The festival says it also doesn't "collude" with immigration agencies and is instead working with attorneys to assist artists who may be affected by Trump's ban or any other immigration issues in gaining entry into the country to play SXSW. "We care deeply about the community we serve, and our event is a welcome and safe space for all people," the festival says.