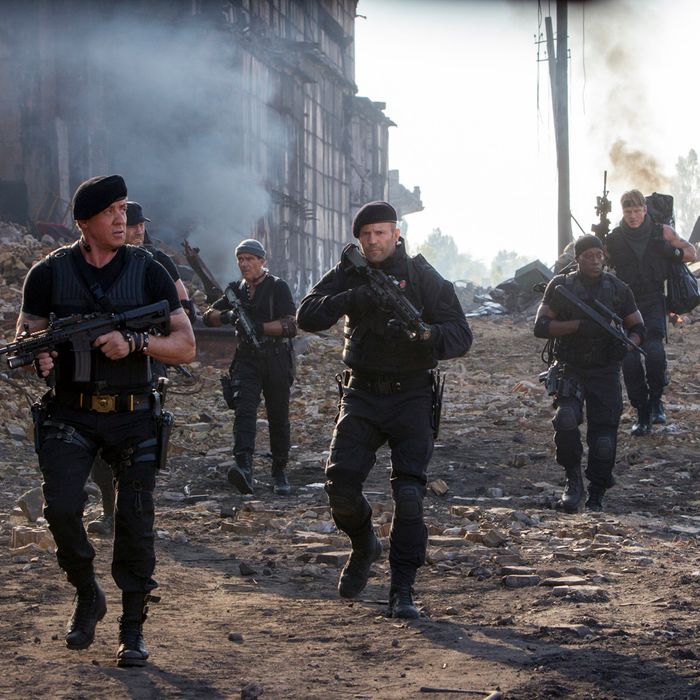 Photo: Phil.Bray/Lionsgate
The king of the Expendables might be leaving The Expendables. According to Deadline, franchise creator Sylvester Stallone might be walking away from the movies due to creative differences with the producer. Stallone, who co-wrote and directed the first movie and also did the screenplays for both sequels, has been unable to reconcile differences over the script, who should direct the fourth installment in the series, and "certain qualitative elements of the film" about E4. According to "sources," Stallone is "concerned about potentially underwhelming results of another franchise with which he is indelibly linked." The Expendables franchise was a surprise hit when it debuted back in 2010. Stuffing a collection of mostly aging action stars into one movie about a band of off-the-books mercenaries was either going to be some kind of crazy film magic or going to explode in a glorious ball of B-movie flames. Fortunately for Sly and Co., the former scenario played out, and the three movies have netted over a half-billion dollars worldwide. The domestic grosses, however, have declined with each installment, perhaps giving Stallone pause about continuing on.
It could be that if the big man walks away, the rest of his mature cohort might follow. Maybe Dolph Lundgren and Wesley Snipes and Arnold Schwarzenegger and Bruce Willis were only in it for the action-all-stars camaraderie. But the series has stacked itself with enough talent to continue on in a New Class kind of way. Kellan Lutz, Ronda Rousey, and Victor Ortiz joined in E3 and, even if they were down a few classics, that would make more than enough room for a thrilling martial artist like Iko Uwais or a good old hard-edged American like Frank Grillo. Or, gasp, it might even make room for some female action icons like Cynthia Rothrock, Maggie Cheung, Zoë Bell, or Brigitte Nielsen. (Four of those five women actually already made a version of lady Expendables called Mercenaries in 2014, and it was a B-movie pot of gold, but they deserve big-time-studio money to do it again the right way.)
As long as a few of the franchise-legacy stars stuck around to complete the transition, a new batch might even lift those tapering box-office returns. Perhaps Jason Statham's Lee Christmas takes charge of the squad after his dear friend Barney finally decides to retire, with Galgo (Antonio Banderas) ascending to second-in-command. Statham is an action-franchise machine, so a hypothetical Expendables 4 with him in charge likely wouldn't suffer much (if at all) by way of chemistry, and everyone knows that Banderas was the breakout star of the third movie. Even if Statham departed, too, Banderas could be the franchise's new core based on wacky charisma alone, especially if Terry Crews stuck around to play additional comic relief.
If nothing else, Glen Powell only just arrived in the franchise during the last movie, and we aren't willing to let Powell be called Expendable just yet. It should be noted that producer Avi Lerner told Deadline he doesn't consider Stallone's exit a done deal, saying, "We've got disagreements with Sly, but we've had them for over a year and a half," and, "In my opinion, it's not dead." But it sounds like time for bold thinking if we want to keep our most unabashed action movies alive. Make Chad Stahelski an offer to direct he can't refuse and have him bring Keanu along. Call Rousey back. Get Gina Carano on the phone. Beg Michelle Yeoh to make time for filming, and then throw Michelle Rodriguez behind the yoke of the Albatross and let's face the future.