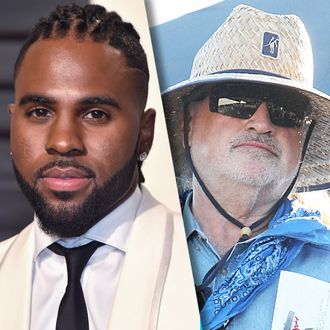 Listen, the heart wants what it wants. Terrence Malick's heart, according to a Texas Monthly profile, wants Jason Derulo's music. Specifically, Jason Derulo singing "Talk Dirty." Even though Malick is in the most productive period of his career, with almost a handful of features released since 2011's Tree of Life, he's still as reclusive as ever. Instead of sitting down with the legendary director, the best Texas Monthly could score were talks with his local friends. One of them, Sam Pressman, suggested that Malick once waxed poetic about a little love song about lipstick stains on passports and international love:
"You'll hear him say something like, 'I just heard this Jason Derulo song, "Talk Dirty." I haven't heard a love song like this before.' And you'll think to yourself, 'That's so weird, that's such a shitty pop song.' And then you'll listen to it again and you'll hear this Turkish lick, and you'll say, 'Actually, that seemingly innocuous pop song has something really cool to it.'"
The magazine's look at the director-philosopher gives Malick's history as a Texas local (you might find him hanging out in a Hawaiian shirt, putting some respect on Deep Blue Sea). Malick's supposed affection for Derulo's tune is the ultimate "Stars! They're Just Like Us!" moment: One day, Terrence Malick listened to "Talk Dirty" and he liked what he heard.