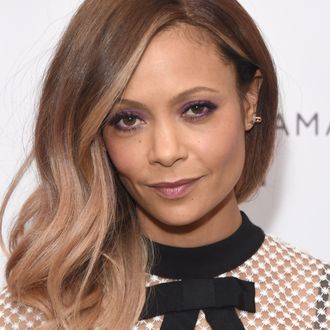 Thandie Newton.
Photo: Stuart C. Wilson/Getty Images
British period dramas may be entertaining, but they simply don't have good roles for people like Thandie Newton. In an interview with the Sunday Times Magazine, Newton, who now lives in Los Angeles, explained that the popularity of historical dramas, which tend to focus on white characters, means that it's hard to find roles as an actor of color. "I love being [in the U.K.], but I can't work, because I can't do Downton Abbey, can't be in Victoria, can't be in Call the Midwife," the Westworld actress said. "Well, I could, but I don't want to play someone who's being racially abused."
"I'm not interested in that, don't want to do it," Newton, who will soon appear in the Star Wars Han Solo movie and also signed on for a role in the Brit cop drama Line of Duty, added. "There just seems to be a desire for stuff about the royal family, stuff from the past, which is understandable, but it just makes it slim pickings for people of colour."
Newton's fellow British actor David Oyelowo recently made a similar critique of the British film and TV industry, though he added that people making period films and shows tend to ignore nonwhite British history. "People of color have been expunged from Britain's history," the Selma and United Kingdom star said. "One of the best ways to illustrate how integrated we are historically is to have a piece of entertainment that people can also learn from while they are watching it. That is why I am hellbent on period drama: We need the context so we can build, and then go on to grow."
When black actors like Newton or Oyelowo head to America, however, they face new kinds of biases. Samuel L. Jackson recently noted that "there are a lot of black British actors in these movies," adding that he wished Get Out, Jordan Peele's racial satire that stars the British actor Daniel Kaluuya, instead had "an American brother who really feels that." Jackson also claimed that British actors are cheaper, and that people tend to think of them as more classically trained.
In response to Jackson's comments, Kaluuya explained that Get Out, which focuses on the subtle power of liberal white racism, resonated with his own experiences. "I'm dark-skinned, bro," Kaluuya told GQ. "When I'm around black people I'm made to feel 'other' because I'm dark-skinned. I've had to wrestle with that, with people going 'You're too black.' Then I come to America and they say, 'You're not black enough.' I go to Uganda, I can't speak the language. In India, I'm black. In the black community, I'm dark-skinned. In America, I'm British. Bro!"