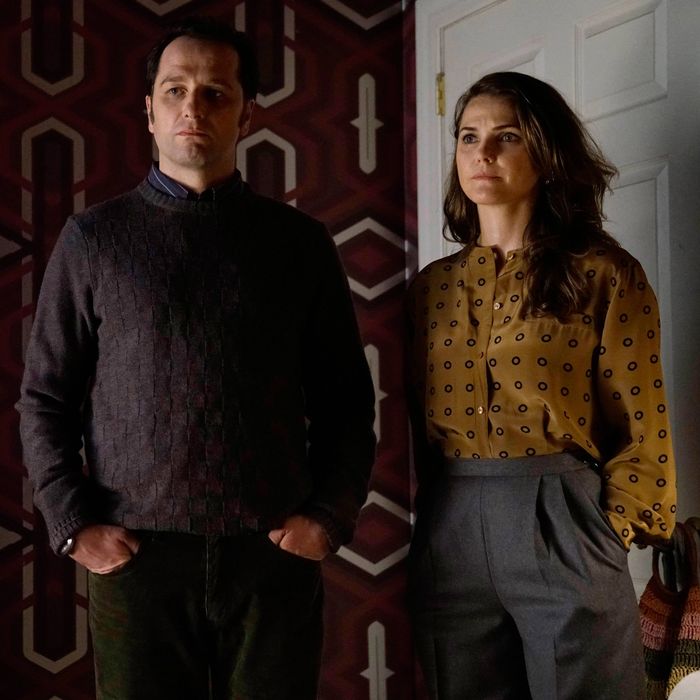 L-R: Holly Taylor as Paige Jennings, Matthew Rhys as Philip Jennings, Keri Russell as Elizabeth Jennings.
Photo: Patrick Harbron/FX
Spoilers ahead for the season-five premiere of The Americans.

The fifth season of The Americans opens in a high school cafeteria where students are shuffling through a lunch line and fanning out to find tables, all while Devo's "That's Good" pulses energetically on the soundtrack. The camera zeroes in on a young man named Tuan (Ivan Mok), who sits down next to a Russian student named Pasha. Both boys originally came from other countries and are still relatively new to this particular school. They talk. They bond over how challenging it is to learn English. "It's hard," says Tuan. "I remember."
After school, they head to Tuan's sizable, pleasant suburban home and say hello to his mom and dad, Mr. and Mrs. Eckert, who look like Über-normal, totally forgettable parents. Except, of course, they're not: They're Philip and Elizabeth Jennings, Russian spies in disguise.
Remove the spy element from this equation, and this whole Americans sequence could easily pass for the beginning of a John Hughes movie. That feels both deliberate and relevant, because of the direction in which The Americans narrative seems to be headed and the specific moment in the 1980s that the series has just reached.
Timeline-wise, we are now in the middle of February 1984, a healthy year for hallway-locker cinema. Buoyed by the previous success of teen-oriented films like Fast Times at Ridgemont High, Risky Business, Valley Girl, and The Outsiders, 1984 cranked out several notable hits aimed at and about people in Paige Jennings's age demographic, including Footloose, The Karate Kid, and the first coming-of-age work from Hughes, Sixteen Candles. Perhaps most significant to The Americans universe, 1984 also marked the release of Red Dawn, a war picture in which young resistance fighters who dub themselves the Wolverines try to battle Soviet forces attempting to take over the United States. The last name of the brothers in Red Dawn, played by Patrick Swayze and Charlie Sheen? Yeah, it's Eckert.
In an interview with Americans showrunners Joe Weisberg and Joel Fields, I asked whether they were thinking about the teen movies from this era while mapping out this season, and they didn't indicate that these films exerted a major influence. Still, perhaps because so many of us have been conditioned to consider the teenage experience through the prism of these movies, it's fascinating to watch the season-five premiere through that same prism.
A lot of what happens in the episode, called "Amber Waves," focuses on young people: Tuan and Pasha; Paige and Matthew, who have continued to pursue the romance they started during last season's finale; and poor Hans, the KGB operative and one-time mentee to Elizabeth who becomes another casualty of spy life after an accident during the Fort Detrick mission. (Henry, who has apparently grown a couple of feet since the 1984 Super Bowl a month ago, hasn't factored into the mix yet. But all signs suggest he will play a big role in what happens later in the season.)
The issues that all of these character are either dealing with in this episode or have dealt with in the past share some things in common with typical teenager problems.
Tuan and Pasha are both struggling to fit in and understand the culture they're supposed to be embracing. Paige and Matthew are in the throes of young love and, in Paige's case, dealing with parents who don't approve of the relationship, which is classic coming-of-age stuff. Paige is still being trained by her mother, whose session in the garage in this week's episode carries a whiff of Mr. Miyagi imparting his wisdom to Daniel-san in The Karate Kid, assuming Mr. Miyagi had been more aggressive and less interested in getting his fence painted.
As for Hans, in the previous two seasons he, too, was groomed by Elizabeth and felt the same pressure that Paige, as well as plenty of teen movie characters, often feel to live up to their parents' expectations. (Had The Americans more aggressively tried to mimic the tropes of '80s youth movies, it would have gone full My Tutor and pushed Elizabeth and Hans, who once flirted with his mentor, into an R-rated affair. Thankfully, this show is better than that.)
At its core, especially early on, The Americans subverted the notion of the perfect American family by showing us a set of parents and their two kids living in a beautiful suburban house, but revealing their a dark secret: that mom and dad are lying, wiretapping, and murdering on behalf of this country's greatest Cold War enemy. As time has moved forward, those kids have grown up and the scope of the series has widened. It makes sense that, in addition to playing with the notion of what it means to have an ideal family and marriage, the show is also screwing with our perspectives on the American teenager, especially now that the narrative is turning its attention more and more toward Paige, Henry, and the next generation of Jennings acolytes who may or may not be willing to put their lives on the line for the Soviet Union. The central question of The Americans remains: "Will Philip and Elizabeth get caught?" But now there's a secondary question — "If they do, will someone be able to replace them?" — that seems just as important.
Of course, what differentiates all of these situations from your average teenage struggle is the fact that all of them are fraught with serious dangers. Tuan, who is building a relationship with Pasha on behalf of Philip and Elizabeth, could be revealed as an operative instead of just another friendly, marginalized peer. By dating the son of an FBI agent, Paige is essentially making out with the enemy from her parents' point of view and running the risk that she could accidentally blow their cover. Hans, who had become a peer of Elizabeth and Philip, proves how much trouble a young person can get into by following their instructions: The guy literally fell into a grave he helped dig for himself. Basically, anyone who is like a child to these two people, or one of their actual children, could wind up dead. That kind of thing didn't happen in Sixteen Candles. (Imagine how fascinating any John Hughes movie would be if one of the characters were secretly in cahoots with the Russians. Seriously: Farmer Ted could have been working a whole other angle.)
The Americans continues to show us circumstances that we, either from our own lives or from popular culture, intimately recognize. While watching Paige argue with her parents or Tuan force himself to watch The A-Team so he'll understand what the other kids are talking about, this series invites us to say: "It's hard. I remember."
But just as we're relating to what's happening or, perhaps, waxing a little nostalgic for our own '80s youth, Philip and Elizabeth dig themselves in another hole, and another person dies. And we're reminded that, no, this is different. The Americans is showing us something else: what lurks below the surface of all the things we think we know and remember so well.