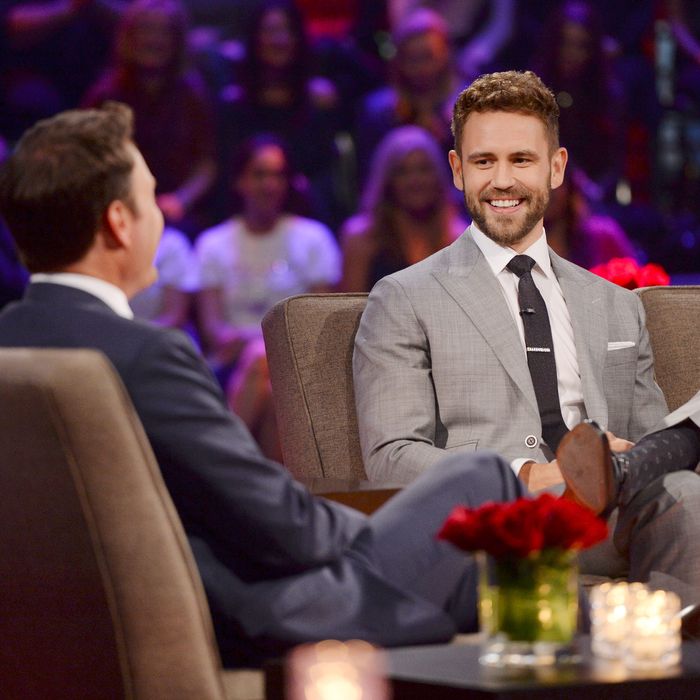 Chris Harrison, Nick Viall.
Photo: Michael Yada/ABC
Hello! Once again, I'm stepping in for Ali to recap this episode of The Bachelor. Here, in a nutshell, is what you need to know about this two-hour "Women Tell All" special: There is so much drama that needs to be unpacked, so many stunning emotional revelations and careful conversations about race and politics in America, so much soul-searching about the role this franchise has played in reality-television and celebrity culture, that the special managed to find time to devote multiple agonizing seconds to watching Corinne clumsily open a bottle of champagne.
Other highlights include pointing and laughing at an audience member wearing a shark costume not once but twice, a studio-wide distribution of cheese pasta, and the repetition of the phrase "emotional intelligence" more times than Chris Harrison can count. Also? A discourse on the physical and social ramifications of napping.
Yes. That really happened. Well, not any of that interesting stuff about race and politics and meta-analysis of reality TV's role in our cultural landscape. Obviously I made that part up. But the cheese pasta, yes.
We begin with Chris and Nick doing a surprise tour of various intense Bachelor viewing parties. It's something Chris says he looks forward to every season because I guess it's delightful for someone of his status to walk into a room of adoring, moon-eyed normals and listen to them squeal with astonishment at his mere presence on Earth. They go to some house parties, a weird, uncomfortable empty studio to hang out with the Backstreet Boys, and a sorority house. It's all very ho-hum and regular.
Then the actual event kicks off, and it's off to the (boring) races. From the get-go, we run through the things that will form whatever passes for an outline of this kind of event: naps, shark costumes, Corinne versus Taylor, Everybody Loves Rachel, and will Nick find love. Someone calls Corinne a "slob kebab," which sadly passes with far less commentary than a line like that really demands.
Before we get into any of that, though, let's bring out Liz, who had a brief moment of conflict in the sun that we've all forgotten about and must now revisit like one of the Ghosts of Failed Bids for Narrative Relevance Past. Liz, you may recall, or probably don't, was infamous for having slept with Nick before the series began, and then showing up on the show hoping to potentially rekindle that drunken, indifferent, wedding-sex magic. After some half-hearted attempts to make anyone care about this story again, Liz goes off on one of the more nonsensical lines of self-defense of the evening, claiming, among other things, that you shouldn't care about "what [people] do" but rather "who [they] are." She is firm about the truth of this, even though evidence to support her worthiness as a person also includes having built wells and orphanages, which is arguably something you could classify as "a thing she has done." Let us spend no further time thinking about this silly nonsense.
Next, we turn to the only legitimate sources of entertainment this season: the battle between Taylor and Corinne and the mere fact of Corinne's existence. First up is Taylor, who puts up such a remarkably under-considered and tearful defense of her actions and her victimhood at the hands of Evil Bully Corinne, that even the Jewel-Toned Audience Ladies shake their heads in nonplussed dismay. Taylor's thoroughly underwhelming attempt to explain her reading of Corinne goes something like, "I spoke to the behaviors you were having in that experience, I wasn't talking about you as a person," to which Corinne, most of the studio audience, and also I at home yelled, "IT'S THE SAME THING!"
From there, Corinne finally takes the stage for a referendum on whether or not she is a bad person and whether taking a nap makes you a bad person. Here's the thing about Corinne: There are probably ways to make her seem worse than she is, but "loves her longtime family employee and caretaker," and "takes naps" are the worst possible angles any opponent could choose. Seriously, the primary argument here is about whether it is bad to take naps, which, yes, does get slightly more reasonable when it becomes about whether Corinne showed "disrespect" for the process by sleeping during a rose ceremony. But c'mon. Who among us would ever pick "be in a rose ceremony" over "take a nap?" It's absurd! And counterproductively for Taylor, it backfires into making Corinne look even more sympathetic than she already did, and that's even before she hands out cheese pasta to everyone.
Having finally dispensed with Corinne and Taylor, we take a brief spin through the land of legitimate sob stories, hauling Kristina onto the stage to recount her truly horrible childhood in Russia. It is always disconcerting when a Bachelor property makes a bid for emotional seriousness, especially in a setting like this where a contestant can't even get a fully sympathetic edit without some idiot jumping all over her limelight to complain about not getting picked. (Great work, Danielle L.!) In any event, Kristina would like to remind us that there is no moral equivalency with Russia, we should take claims of Russian interference in the election more seriously, and everyone should watch The Americans. Or she makes a lovely speech about the importance of women supporting each other and why she hopes to reach out to make a difference in the world. One of those two speeches definitely happens.
Now we come to the final half-hour of this slog, which features a blooper reel, a half-hearted attempt to run Nick through some kind of gauntlet, and then, finally, the reason we're all here, the official crowning of Rachel as the next Bachelorette. Why did Nick reject exactly the qualities he claimed he was looking for in a woman, asks Dominique. Because shruggie emoji, Nick replies. As someone who's been through this process more than anyone else, why didn't he show more empathy, another woman asks. "I tried my best," he says. Where is the comically giant vaudeville hook I can use to reach through the screen and just pull this guy offstage already?
At last, Chris Harrison brings out Rachel, whom he officially announces as the next Bachelorette, something every person watching already knew about. She gives a remarkably effective performance as the queen about to ascend the franchise throne, smiling humbly, stating over and over again how "honored" she is to be a part of this process and how much she believes in it, and laughing at poor shark lady in the audience again. Chris does ask Rachel about being the first African-American center of this franchise, and she gives a carefully crafted answer: She doesn't want it to be "the focus of [her] journey," but she's "happy to acknowledge it." Which is to say, "Yes, I recognize this is a big deal and I accept that I'm going to become a standard bearer for this question, but also, please don't freak out that I'm black and I'm the Bachelorette. It's going to be another regular season. Please be cool, everybody."
There are two other interesting elements to Rachel's big Bachelorette debut. The first is that right at the top of the interview: Chris asks her what she's looking for in a man, and she's very fast to say that she doesn't necessarily have a physical type. This is some fascinating coded language, which will become all the more interesting if you read it in the context of Linda Holmes's writing about the franchise's history with race-aware casting. The second notable takeaway is how unified and enthusiastic the other women seem about Rachel taking on the Bachelorette role. They are giddy for her, and their legitimate enthusiasm is one of the best endorsements I could imagine for Rachel's upcoming season. She's been able to get these women, who have every reason to feel antagonistic or indifferent, to be entirely on her side. Kudos.
And then there's a giant long promo for the end of Nick's season, just in case anyone needed further inducement for setting him aside and just skipping straight to Rachel. But alas. Next week, Nick makes it to a final episode of this thing, and maybe he'll actually come out on top this time. Mazel tov, I guess?