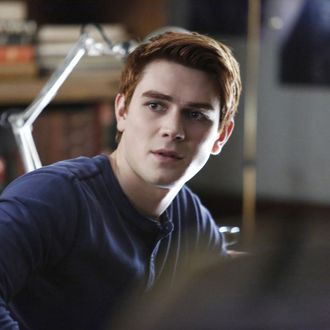 He can hardly believe it either!
Photo: Bettina Strauss/The CW
Rejoice, Hot Archie enthusiasts! Following the success of Riverdale's first few episodes in its 13-episode debut season, the CW has announced that it will be renewing the Archie Comics–universe series for a second season. The broodingly dark "Twin Peaks for teens" series is currently exploring the mysterious murder of Jason Blossom, and has already dealt with super-fun topics that include illicit student-teacher relationships and deviations from canon. (Ah, high school.) In the CW's announcement, the network noted that the show does particularly well in the ratings with younger audiences, and also is one of the most-streamed shows on its digital platforms. Riverdale now joins the likes of other recent CW season renewals for a jam-packed fall lineup, such as Crazy Ex-Girlfriend and Jane the Virgin.