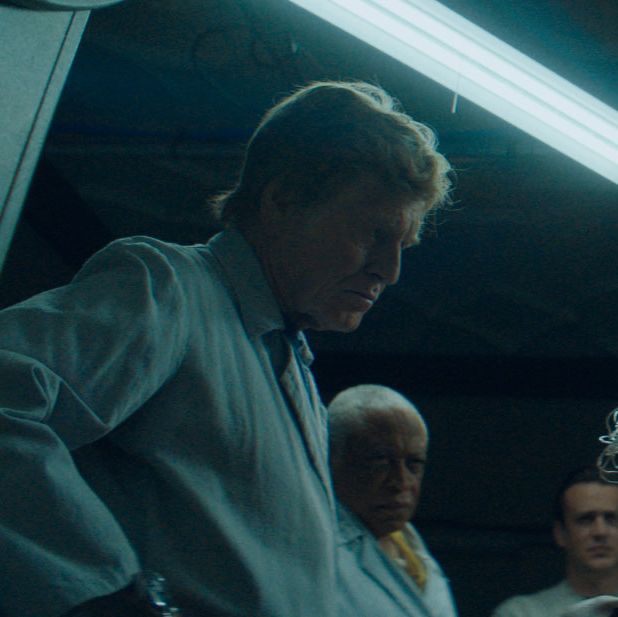 The discovery in The Discovery.
Photo: Netflix
On the day that Jason Segel had to wade into the ocean during the shoot of The Discovery, the water was very cold. At its warmest, the ocean off the coast of New England tends to exist somewhere between frigid and freezing, and on this particular day, a lifeguard with a whistle was sitting on the beach, timing everyone to make sure that nobody stayed in for more than 15 minutes — otherwise, they might get hypothermia.
The Discovery will be released on Netflix on March 31, and it has a hell of an elevator pitch: What if the afterlife had been scientifically proven? What would happen next? It's one of the most intriguing hooks in recent cinematic memory, and it would've been easy for its makers to indulge, producing either a cold and algebraic analysis or an overcooked, under-thought buffet of soulfulness.
Instead, director Charlie McDowell, working from a script with his writing partner Justin Lader, went in a different direction, investigating the consequences such a revelation would have on the human beings now aware that they were only living their first lives — and the next was just a gunshot away. Like the duo's first film together, 2014's The One I Love, The Discovery is a potboiler as well as a thought experiment, but one that remains committed to its characters above all else.
And just as it would've been easy to abandon those characters for the temptation of spectacle and flash, it also would've been easy for the film's director to stay on the beach. But Segel, who plays the movie's protagonist, tells a different story.
"We showed up to do that, and there was Charlie in a wet suit," Segel says. "It was us and the crew and Charlie, all as a team, doing this together."
When McDowell went in the water during the shoot of The Discovery, he was reversing the process that had led him to filmmaking in the first place. The son of actors Malcolm McDowell and Mary Steenburgen, McDowell was born in Ojai and spent a significant portion of his youth on his mother's movie sets. Eventually Steenburgen and her new husband, Ted Danson, settled the family in Los Angeles: McDowell was 12 and not unaware of the fact that his father, mother, and stepfather were all famous actors.
"When I lived in Ojai, I did community theater, and I was intrigued by acting. And then I pretty quickly realized that one, I'm not very good at it, and two, I really didn't like being associated with my parents in that way," McDowell told Vulture over lunch in a gastropub in Los Feliz. "So I got really into surfing, and that was my life, from when I was 10 years old to 18. I surfed almost every day, and it was all I cared about — I was a sand-in-the-bed, total beach bum."
While surfing had begun as a way to diverge from the family business, it eventually led McDowell back toward it. His teenage years came during the '90s heyday of skateboarding and BMX videos, a world that birthed filmmakers like Spike Jonze, and a similar phenomenon was taking place with the Golden State's favorite sport. One day, out on the water, he saw a guy making a surfing movie.
"Now you can just get waterproof housing for your iPhone or a little camera, but back then, it was this big old boat thing that you put a camera in and sealed it up," McDowell says. "I watched this guy artfully film these surfers, and then when I saw the footage later, I just thought it was so beautiful and interesting."
McDowell asked for and received the "big old boat thing" for Christmas, and he and his friends started making their own surfing films. What started on water quickly moved inland, as McDowell began to shoot surfers on the beach, then in the parking lot. That led to a high-school class, then Chapman University's film school, and a PA gig on Curb Your Enthusiasm. After two years at Chapman, he made the jump to the American Film Institute, one of the country's best graduate programs in film. (He didn't yet have a bachelor's degree.) At 21, he was nearly a decade younger than most of his classmates.
McDowell's time at AFI served two main purposes: It taught him the technical aspects of directing, and it led him to his writing partner. Justin Lader was two years behind McDowell at AFI, and the pair met through mutual friends. McDowell was bowled over by a script Lader had written during his last year at the school, and Lader saw in McDowell a confident collaborator who had experience of the industry that he lacked — doubly appealing for a writer graduating from film school in 2008.
"We intentionally fell into this partnership, but a happy accident is that we tend to complement each other in different ways," Lader told Vulture over the phone. "If I bring anything to the table, I bring a strong sense of story and structure and pacing. I know the way a scene should feel and move and the rhythm of all that. And Charlie is just — and this extends to how great he is working with actors — Charlie's pretty amazing and dialed in when it comes to characters and characters' motivations. If I'm the person who brings the 'What if this happened?' to the table, Charlie's the person who responds, 'But what if this really happened?'"
The pair set about trying to get Lader's thesis script made, but with a budget in the $2.5 million range, it was just expensive enough to deter financiers considering a bet on a first-time director. Then they met Mark Duplass. In characteristic fashion, the prolific filmmaker, producer, and actor suggested that they find a house, go there for two weeks, and shoot a movie. That movie would become The One I Love.
Just like The Discovery, The One I Love has a killer premise; unlike The Discovery, it's hard to explain that premise without taking away from the fun of the film. Just know that it's about a couple, played by Duplass and Elisabeth Moss, who, like the filmmakers, go to a house in Ojai with a goal in mind. They're hoping to repair their relationship, and they're visiting the house at the behest of a therapist, played by McDowell's step-father Ted Danson. He doesn't explain exactly what will happen at the house, and the delight of the film lies in discovering, right along with the characters, what exactly it means to confront the best possible versions of your partner and yourself.
"We had an idea of a guy who see two versions of his wife, and that was literally it," McDowell says. "And then we went up and started to walk around, and there was this main house and this guest house, and there was this hedge and gate that divided them. I thought it was interesting to think of, what if something happens there that's separate than here?"
It's a triple-layered film, a serious interrogation of monogamy hiding within the Trojan horse of a sci-fi mind-bender that itself has been disguised in the clothes of a romantic drama. Although the film was shot in 15 days for a budget of about 35 cents — not exactly an environment that welcomes technical ambition — McDowell was determined to make the film as visual as he could. He storyboarded every scene using photographs he took himself, a deliberate approach to framing that comes through in the final product, which looks noticeably different than your typical micro-budget indie.
The One I Love premiered at Sundance in 2014, becoming one of the festival's breakout films, and it sold to the now-defunct Radius, a division of the Weinstein Company, in the kind of dramatic finish that is the stuff of Sundance lore, complete with execs jumping off a plane to convince them to seal the deal. But by then, they'd already moved on to the next one. In a scene that wouldn't be out of place in one of their scripts, McDowell and Lader disagree on the origins of The Discovery. McDowell says Lader mentioned it to him on the drive back from Ojai just after they'd finished shooting The One I Love. Lader remembers pitching it on the way there, having come up with the idea while watching a documentary about Stanley Kubrick, birthed out of Kubrick's admission that ghost stories comforted him, because no matter how scary or horrifying they were, they indicated an existence after death.
"It was one of those lightning-in-a-bottle moments that I wish I could have control over, but unfortunately you don't," Lader says. "I thought, what would happen if there was a figure who had Steve Jobs's popularity and the scientific respect of Albert Einstein, who'd been in the public consciousness for 40 years, who one day announced, on live television, that he had scientific proof that the afterlife exists, and that the proof was so overwhelming that it couldn't be dismissed."
Regardless of where it came from, the idea gelled for both men when they decided that if the afterlife was real, it would probably lead to a rash of suicides. The first pages they wrote were a version of what would become the opening scene in the film, an interview between a reporter, played by Steenburgen, and the scientist, played by Robert Redford, that outlines the discovery and its ramifications. McDowell gave that scene to his girlfriend, Rooney Mara, who decided that she wanted to be in it. With Mara attached and the premise to wrangle, the pair spent two years churning through rough drafts, eventually settling on a story that follows the scientist's son, Will, returning home to see his father and confront the ramifications of his work.
Eventually, Segel signed on to play Will, the audience's surrogate. If his character has any defining quality, it's his decency, his desire to endure, and Segel's quiet determination in the role is as revelatory as his portrayal of David Foster Wallace in The End of the Tour.
The Discovery was not Segel's first experience with McDowell; he'd acted in the young director's AFI student shorts during his first year of How I Met Your Mother, having been introduced to him through his TV wife Alyson Hannigan.
"I just remember a supreme calmness. He's always had that behind the camera: the self-assuredness of someone who knows what they want and when they've gotten it," Segel says. "When we were filming The Discovery, there were moments where we would do three takes of something and he'd say, 'All right, moving on.' As an actor, that can almost make you nervous. Like, 'Do you have it, are you sure you got it?' And he'd say, 'Yeah, I got it. There's one more line that I need to get, but I want to get it from a different angle.' And you're like, 'Oh, he's already editing.'"
"He comes from a school of director that I really appreciate, where he does a lot of his work in the casting process, and then turns the responsibility of the performances over to the actors," Segel says. He and Mara are just two members of a stacked cast that also includes Riley Keough, Jesse Plemons, and Redford, with Plemons in particular giving a remarkable performance as a guy walking the line between sanity and incoherence.
When it came to casting the celebrity scientist who discovers the afterlife, the gravity of Robert Redford was essential. "There are maybe five actors on the planet where, when they deliver a line, you fucking believe them," McDowell says. "When Redford says it, you believe it."
In The Discovery, those around Harbor must reckon with the authority of the man, a command he doesn't always use for good. While McDowell's situation is very different — he's close with each of his parents and their families, and both branches spend significant time together — the specter of an enormous paternal presence is one he's been living with his entire life. "When my dad walks into a room, he takes over the room, not because he's trying to, but because there's a respect of a lifelong career, and there's an energy coming from him," McDowell says. "He is the alpha male in the room."
"I don't envy his position, because it's almost like a no-win question when that's brought up to him," Lader says of McDowell's relationship with his famous parents. "If he's dismissive of it, it's like he's not being honest with obviously the opportunities that he's had in front of him. But if he talks about it openly and honestly, there's no way that he can't come across as defensive. Obviously growing up in any industry, there's certain advantages that you have access to, and yeah, it could be easier to get into a room for general meetings than it is for somebody who doesn't have any connections. But the gap between having a general meeting and getting somebody to give you millions of dollars to make a movie is the Grand Canyon. Do you think Robert Redford would care who a filmmaker's parents are when he's making the decision to do a movie?"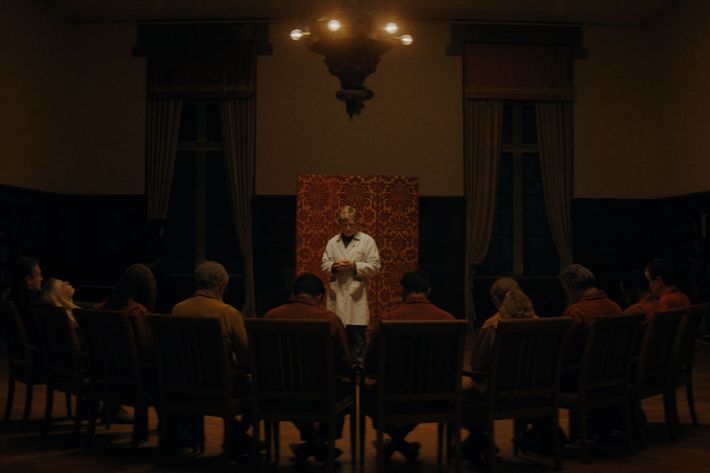 McDowell had hoped to shoot The Discovery on Martha's Vineyard, a place he'd spent time when he was younger, but for logistical reasons, the production ended up in Newport. Compared to The One I Love's 15 days, their 25 days of shooting was a comparative luxury, and much of it took place within an enormous mansion that featured prominently in the TV show Dark Shadows and apparently once played host to a porn movie made by the director of Deep Throat. He and his DP, Sturla Branth Grøvlen, watched Paul Thomas Anderson's The Master three times before shooting, studying the use of color as well as the eccentric pacing. The result is a film whose bleakness suffuses each frame, from the severity of the rising suicide counters displayed like PSAs in public areas to the unforgiving grayness of the ocean. You can practically see the wind.
To get that kind of specificity on the short shooting schedules of independent film, extensive pre-production is a must. McDowell and Grøvlen spent significant time walking around Newport and the mansion prior to shooting, scouting locations and planning out their shots, and Segel got in a month early. The Discovery is unapologetically a visual movie, and Netflix might initially seem like an odd fit. Those of us who went to Sundance are probably the only people who will get to see The Discovery on a movie-theater-size screen. That fact isn't lost on McDowell, who describes his first reaction to the company's interest as "mixed."
"My instinct is theater — that's where I want it to be seen, I made it to be seen in the theater, and that is not a part of their model," McDowell says. "After The One I Love, that was an element I really wanted for my second movie, because that didn't have a big theatrical release."
But The One I Love owes at least some portion of its success to Netflix, where it streamed for quite some time. And when McDowell started weighing the pros and cons of the offer, the cons quickly gave way.
"Netflix was at 85 million users when we made the deal, and I just saw a tweet that it's almost at 100 million users, in 160-something countries," McDowell says. "I'm making this for people to see and to question and to debate and to think, so why wouldn't I want that to reach all different types of people and cultures? There's no other place that can do that."
The company's relative newness to film distribution became something of a virtue as well. McDowell could weigh in on how The Discovery would be marketed, a process that would be tailored specifically to the film — after all, there wasn't much of a previous playbook to follow. And without the burden of an opening-weekend number hanging over its head — nor the pressure of trying to sell the movie at Sundance — he didn't need to worry about The Discovery living or dying in a weekend.
Bizarrely, it isn't the first afterlife-focused project Netflix will have released in the last few months. Last year, Brit Marling and Zal Batmanglij's The OA took off after appearing on the service with little fanfare. It just so happens that McDowell and Batmanglij are good friends dating back to their first days at AFI, but they had no idea that they were working on projects with such uncanny similarities until McDowell watched The OA. (He says he immediately called Batmanglij and said, "Dude, this is weird.") While each is tonally and stylistically distinct from the other, teasers and trailers for The Discovery have been met with comments asking if it was The OA 2. And the connection could've been deeper: Batmanglij and McDowell had joked about having Steenburgen also play an interviewer in The OA, for the sake of joining the two projects into a shared cinematic universe. (And also for laughs.) Fortunately, there's still time for them to pull it off and set the internet ablaze: The OA will soon be entering production on season two.
Either way, McDowell's happy to have the comparison, just as he's happy to have the breadth of Netflix and the opportunity to raise the question that's been on his mind before as many people as possible. And with his and Lader's next project, they'll continue to ebb inwards from the realm of science fiction toward the blurry edge of what could soon be fact: an FX miniseries adaptation of Don Delillo's Zero K, produced by Noah Hawley and Scott Rudin, which deals with Silicon Valley billionaires' attempt to disrupt death. Just as steadily as he came in from the ocean, McDowell is moving further into the knots and tangles of being alive. It's an intriguing premise, but the real pleasure will be in seeing what he finds.