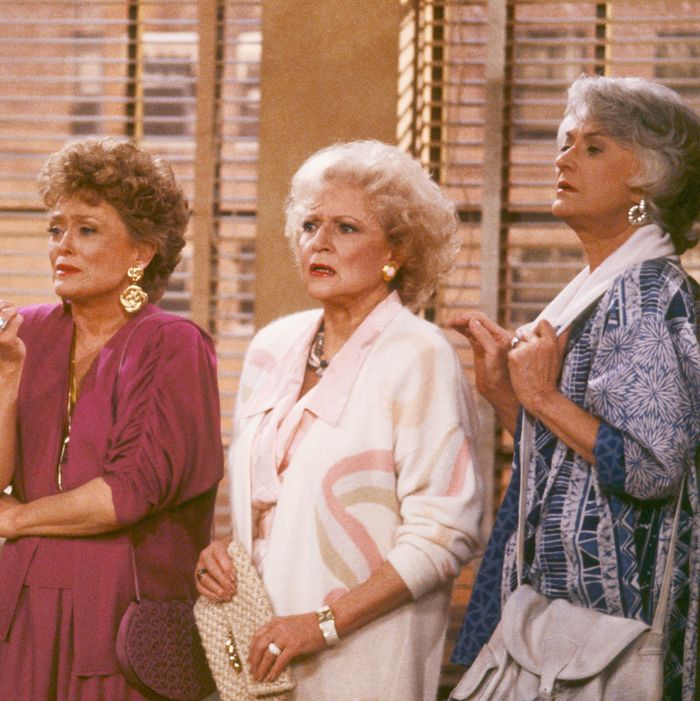 Cheesecake, anyone?
Photo: ABC
Three decades after its debut, The Golden Girls is still indelible: midnight cheesecake summits in the kitchen, hushed conversations on the "lanai," snowy memories of St. Olaf, Old World tall tales of Sicily circa 1922, "Pussycat," and even poor Stan Zbornak are all unmistakably Golden Girls. And with all 180 episodes of NBC's juggernaut comedy now available on Hulu, a whole new generation has the chance to fall for Rose, Blanche, Sophia, and Dorothy.
It's an occasion not lost on the creators of the 11-time Emmy-winning series, which ran on NBC from 1985 to 1992 and centered on four "women of a certain age" living together in Miami. Vulture spoke to the brain trust behind The Golden Girls — creator Susan Harris and executive producers Paul Junger Witt and Tony Thomas, the veteran writing team behind such classic sitcoms as Soap and Benson — about the often bizarre, enduring legacy of their groundbreaking series, how the notion of a show about "older women" has changed since the '80s, their strangest cameos (George Clooney?), the pain of a failed spinoff, and the enduring magic of Betty White.
Tony and Paul, you were actually pitching a different show to NBC before Golden Girls. What was it and how did you ultimately land on the concept of four older women living together in Miami?
Paul Junger Witt: Whatever we were pitching was with another writer, and I don't recall what it was. But I do know the network was not anxious to proceed with it. [Laughs.] Then some NBC execs told us about an event that had taken place at their affiliates convention in Florida that year — Miami Vice was a big hit at the time — and two older actresses performed a brief sketch for the crowd called Miami Nice. It gave them an idea: What about a show featuring women of a certain age? The writer we were working with wasn't interested, so Tony and I said, "We know someone who might be the ideal for this." I got home, told Susan about it, and that was the start.
I'm curious, how old exactly did execs consider a "woman of a certain age" to be in 1985?
Susan Harris: It's funny, when Paul said, "They're thinking about doing a show with older women," it excited me. I wasn't writing at the time, and wasn't intending to again, but the word "older" got me. I was figuring women who were 60 to 70, but when we went to the network, we found out that "older" to them meant women in their 40s, which was astonishing to me because I think that's what I was at the time. We managed to compromise at the women hovering around late 50, early 60s. But ultimately, their ages were never expressly mentioned.
They were simply "retirement age."
SH: Right. At least I got to include Sophia, who really was old. [Laughs.]
I read somewhere that then-Disney president Michael Eisner, whose company produced the series, said you needed the Sophia character in order to make other women seem younger. In the age of fake news, I must ask: Is this rumor true?
PJW: No, that's a complete and absolute myth. [Laughs.]
Glad I checked! I also read that there was originally a gay male "house boy" character in the pilot. I really, really want this rumor to be true.
SH: Yes, there was!
PJW: But it turned out to be an embarrassment of riches. There were just too many funny people in the story.
SH: Too many good people to write for in what essentially was 22 minutes a week.
Susan, when you were writing the pilot, to what extent did you collaborate with Paul and Tony along the way? Were they hovering over your shoulder?
SH: We've always collaborated by first talking it out — the characters and the story — then I go off and write.
PJW: She faced the blank page alone.
Tony Thomas: The real thrill!
When you turned the pilot script into NBC, were then-network president Brandon Tartikoff and his protégé Warren Littlefield giving you notes? This was the cusp of Tartikoff's golden era at the network, so I imagine you had a lot of feedback.
TT: Yes, it was Brandon, Warren, and [then–executive vice president of prime-time programming] Perry Simon. And their collective reaction was rather ecstatic. It was, "Shoot it."
Did they envision the show as the network's marquee comedy for Saturday night?
PJW: I think demographically they thought it would be a good fit. But I don't think anyone realized it would become the complete smash hit that it was. We believed in it as much as anything we had ever done, but the good luck in being able to assemble that cast? Had any one of these four women been off doing something else, we might very well have been a lesser show.
Speaking of casting: Susan, when you were writing the pilot, did you have specific actresses in mind? It's impossible now to envision anyone else playing those roles.
SH: I definitely had Bea Arthur in mind when I wrote Dorothy. I think I even described the character in the script as "a Bea Arthur type." [Laughs.] When Betty [White] came in, she read the part of Blanche but [director] Jay Sandrich said, "Why have her do Blanche? She already played that character on Mary Tyler Moore. Why not have her be Rose?" So Rue [McClanahan] read for Blanche, and then Tony went to New York and found Estelle Getty for Sophia. He called and said, "I've got her!"
There's been a lot of lore surrounding Estelle. Did you purposely cast someone in her early 60s to play a character in her 80s so you wouldn't have to worry about her ultimately becoming too old to work?
PJW: No, that never came into play. We were just looking for the best person for the role.
I heard that the late, wonderful Elaine Stritch was in the running for Dorothy before Bea. Did she actually audition for you?
TT: Elaine was someone we knew, respected, and considered very, very, very seriously. She came out and read for us and was quite good. But Bea had an edge to her that we just found irresistible; the chemistry among the ladies was such that we ended up with the perfect foursome.
So you make the pilot and NBC is thrilled with the results. How quickly do you get a series order after your premiere?
TT: We were a fall premiere, and we immediately got a full 12 order. Even our dress [rehearsal] show was so good that everyone felt overwhelmed with excitement. I think NBC already knew they had something special after a preview screening we'd done for affiliates and press at the Waldorf Astoria in their largest room in New York — a process of course now called the upfronts — and the reaction was extraordinary. A standing ovation. [Late TV director] Bruce Paltrow was sitting at our table and turned to Susan and said, "This is the best pilot I've ever seen."
PJW: It was an amazing experience.
TT: Two-thousand people in that ballroom, screaming and laughing.
I've always been struck by how many serious and politically charged topics you tackled in the show, including AIDS, homosexuality, gay marriage, cross-dressing, elder care, and even one where Dorothy struggles to diagnose her own chronic fatigue syndrome. How much pushback or support did you get from NBC regarding these story lines?
PJW: We got a great deal of support. They knew what they had and trusted our capabilities. Having been able to make a comedy that was so real is what makes what's going on with Golden Girls right now possible. It was never just about jokes. Those episodes meant the most to us because we tackled serious subjects that needed to be dealt with on a national level, and this was a safe way for people to see, hear, and absorb them.
Did you infuse any personal experiences into these particular episodes?
SH: The chronic fatigue one was actually something that I was personally going through at the time. This was before there was a diagnosis of chronic fatigue. I had all the symptoms, but had very bad experiences with doctors, some of whom told me to dye my hair a different color and asked whether Paul and I were getting along in our marriage.
PJW: "Take a Valium."
SH: Yeah, exactly. Then Paul read an article in Rolling Stone by a woman who had the same symptoms, and they were calling it chronic fatigue syndrome. He said, "That's you!" So the episode was my way at getting back at all the doctors who didn't believe me; my revenge script for all the people out there who had a disease like that. In the end, it turned out I did not have chronic fatigue syndrome — it was an adrenal issue — but the fact that the episode inspired so many people to go to the doctor was incredible.
PJW: It also got people to stand up to doctors. That was a level of sexism I had never witnessed before. I was appalled.
SH: I walked out of the room a couple times and told Paul, "I can't — you deal with this."
Which was your favorite episode to write? Can you possibly choose?
SH: For me it's still the pilot. It's about so more than just writing a script. You're literally creating these people, but you don't even know who they are yet! After we had the cast, the show started to write itself. We knew we didn't have to necessarily give Bea a line. All she had to do was turn her head and look at somebody. That made our job so much easier.
TT: Some people may not remember that the premise of the pilot was that they were breaking up as roommates.
SH: Oh, that's right. Wasn't it that Rose was getting married?
TT: Blanche was getting married, which was a controversial story line to have in a pilot, like, that's how we're starting this show? But Susan pulled it off.
Tony, you grew up in a showbiz family, with father Danny Thomas and sister Marlo Thomas. When did you realize this show had hit the cultural Zeitgeist?
TT: There were two moments. The first was when we first debuted as a new show at No. 3. I was quite surprised, especially with us being on Saturday night. We could have been a flash in the pan. The second moment was around episode six. We were all down on the stage in our chairs, watching the run-through and laughing. The scene broke and we gathered our notes. I remember turning to Paul and Susan and saying, "This is a show that will last forever. It's like I Love Lucy. The comedy is comedy and the real is real. This will go on." I mean, we were tired but the show never was. [Laughs.]
After seven seasons of strong ratings, you decided to wrap the series in 1992. I imagine the network hated to see you go. Why did you end it?
TT: Bea decided that, having been in so many other series, she did not want to continue. It was a decision we regretted, but understood. She didn't want to spend the next X years of her life doing what she saw as the same thing over and over. Not that the episodes had became predictable, but I think she had basically had it with series TV. And to do the show without Bea wasn't possible. Her reactive comedy was as brilliant as anyone we had ever seen. Continuing without her was not appealing.
One thing that hasn't changed in 32 years is that making a hit network comedy is still an absolute grind.
PJW: It's very tiresome.
You had a lot of notable cameos throughout the show, including Burt Reynolds, Mickey Rooney, Bob Hope, Dick Van Dyke, and Leslie Nielsen. But my favorite is when Quentin Tarantino pops in as an Elvis Presley impersonator in the 1988 episode "Sophia's Wedding." When did you realize that he'd been on the show? He hadn't become Quentin the Director yet.
TT: We didn't know it until well after the fact. Our casting director had put out the call for "Elvis look-alikes," none of which had a prominent role, and only later we learned that one of them was Quentin Tarantino. But an even more interesting story is that we once got a call from George Clooney's agent asking, "Do you have anything George might be right for? We need to get him a couple of gigs so he can keep up on his insurance in the guild." The writers got the call and so he was put in a show.
What did he play?
TT: I think an undercover cop?
NBC liked what they saw so much, they kept him on their casting roster until ER.
TT: I don't think his Golden Girls cameo got him that job. [Laughs.] I just think it kept his insurance going.
When I interviewed Don Cheadle a couple years ago, we talked about his role in The Golden Girls sequel, The Golden Palace. Despite your two successful spinoffs in Empty Nest and Nurses, both of which premiered during Golden Girls' run, Golden Palace didn't work. How difficult was it to try and re-create the magic of the original series, and then see it fail after one season?
TT: We definitely had mixed feelings about doing it, but what we felt more than anything was a responsibility to the crew and staff. We had been employing a lot of people, so to just pull the plug would have meant ending something that provided a very satisfying life for a lot of people. It would be unfair to say it was against our better judgment to do the spinoff because all of those concerns influenced our decision to do Golden Palace. And by the way, Don was amazing. Cheech Marin was amazing. And of course, we still had the other three women. But it was a tough haul. I think we were exhausted.
Did you have any time off between shows?
TT: No, I think Golden Palace went on the very next season.
SH: Did I write it?
TT: Yeah, you must have.
SH: I vaguely remember. [Laughs.]
The show has been ubiquitous since it first went into syndication in 1990, and now it's reaching an entirely new audience on Hulu. There's even a Golden Girls–themed café that just opened in New York called Rue La Rue. I have a lovely set of ceramic Golden Girls coasters I use on a daily basis. How insane does it feel to still be getting attention for a show that premiered 32 years ago?
TT: First to be clear, it's not a Golden Girls–themed café, it's a Rue McClanahan restaurant. Her family asked if they could do that and we and Disney said, "Yes, that would be fine with us." But it's not something we are involved in. [Laughs.] No, it's all wonderful. So many memories of the three of us working together at the peak of our abilities, of the good fortune of collaborating with those directors and writers, and particularly of those four women coming together and bringing life to Susan's brilliant script. It was seven years of total joy.
SH: I mean, we'd had a very good time working on Soap. But I don't think we ever had such a good time as on Golden Girls.
PJW: It's utterly exciting that our show still commands the kind of audience and affection that it does. And some of our biggest fans today hadn't even been born when we first premiered.
At 95, Betty White is now the last surviving member of the main cast. Are you still in touch with her?
PJW: She actually lives around the corner from us and we see her from time to time. She is just one of the most spectacular people on the planet.
SH: I was out walking about a year ago and a car came by me and screeched to a halt. Someone yelled out, "Susan!" I ran up to the window. It was Betty, and she was driving — at age 94. We talked briefly and then she said, "I gotta go, I'm late for makeup." She is really incredible.
This interview has been edited and condensed.