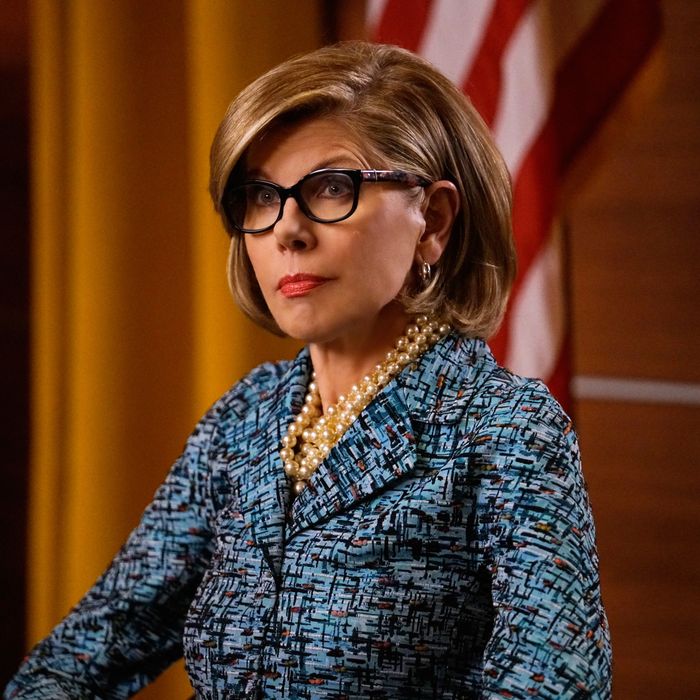 Christine Baranski as Diane Lockhart.
Photo: Patrick Harbron/CBS
Spoilers ahead for episode seven of The Good Fight, now streaming on CBS All Access.
This week's episode of The Good Fight marks the first time the series feels hampered by its limited-episode order. I'm all for TV shows that break the traditional 22-episode mold, a format that's seeming more and more antiquated as television moves online. But because of The Good Wife, The Good Fight's writers are surely accustomed to storytelling in a longer form. When you have 22 episodes to work with, there's simply more time to create and resolve complex story lines. (Frankly, The Good Wife tended struggled to with resolutions even though it had that much time — conclusions to ongoing story lines often felt crammed into season finales.)
The Good Fight doesn't have the luxury of time. I'm all for ambitious storytelling, and I'd ultimately rather watch a show that tries to do too much, rather than trying to do to little. But "Not So Grand Jury" tries to resolve the entire grand jury/Ponzi scheme/Maia's family/Mike Kresteva plotline it spent the past six episodes building, and results are … mixed. As I was watching the first act, I excitedly wrote in my notes, "17 full minutes of rapid-fire exposition! The whole first act!" I was less enthused for the rest of the episode — the general pattern was that one group of characters would stand in a room and announce a plot development, then the camera would cut to another group of characters in a different room, reacting. The performances are strong as ever, and ultimately, the story takes us to satisfying places. Regardless, the episode drags a bit. But onto the details.
Lucca breaks the news to Maia that the fake information she leaked to her father about the firm made its way back to Kresteva's office. This confirms that Henry is working with Kresteva, who's just convened a grand jury to determine whether the firm should be indicted for bribery and tax evasion. As part of the investigation, Kresteva seizes Elsbeth's Alexa-like device and listens to its recordings of her meetings with firm staffers. I should pause here to point out that even though I felt a little iffy about Elsbeth's initial inclusion on The Good Fight, she saves this episode in many ways, bringing the only real levity and unpredictability, beginning with her yelling at the Alexa-like device to purge its information as Kresteva confiscates it. (It reads the IMDB page for the film The Purge instead.)
When Kresteva realizes Henry gave him false information, he calls him in and asks whether he's been working with the firm to tamper the investigation and threatens to revoke Henry's bail. Henry says he'll go to Maia and "help figure out what's going on. Bewilderingly, Kresteva, who is known for being somewhat craven, takes a, "Sure, why not?" stance. And so Henry goes to Maia's apartment and they both plunk their respective recording devices down in the middle of the table, and then turn them off. Speaking as "honestly" as he can, Henry claims that he's only helping with the grand-jury investigation because Kresteva will go after Maia if he doesn't, and Henry believes there's enough (specious) evidence out there to take Maia down.
As Maia and Henry are talking, the grand-jury subpoenas start rolling out to eight of the firm's partners and four associates. Adrian, delightfully, is served while being praised for the quality of his sauce at French cooking class, which needs to be a spin-off sooner than immediately. When the partners meet to discuss strategy, Elsbeth very diplomatically says that they could end the grand-jury investigation by suggesting it's racially motivated, making Kresteva and his superiors look bad. (Barbara astutely points out it already is about race.) Adrian and Barbara are the first called to testify, and they work race into their full testimonies, even when asked questions that don't have anything to do with their own backgrounds or the racial makeup of the firm. It's a little hilarious and a little sad.
After Kresteva realizes no matter how he and his partner Spencer (BrainDead's Aaron Tveit) frame their questioning of witnesses, they're going to appear racist, he decides to switch gears. Now, the proceedings will focus on Diane, Maia, and Marissa, who elsewhere in the episode practices her Italian and announces that she wants to come back as a shark in her next life. Elsbeth decides this means their approach needs to pivot, too, and so the firm sues Kresteva for tortious interference with contractual relations. In other words, his sham of a grand-jury investigation is causing clients to take their business elsewhere, causing financial harm. Kresteva comes to Elsbeth's office, menacingly, and tells her she's bitten off more than she can chew. "Really? I can chew a lot," she replies, then offers him a bite of one of her Fig Newtons. This is as good a time as any to point out that it's incredibly satisfying to watch television where the heroes are women and people of color and the villains are white men who think they're smarter than everyone else. (This is also as good a time as any to mention that Elsbeth's office is an empty exam room at a children's dental office.)
Lucca's quasi-boyfriend Colin ends up representing Kresteva in the tortious interference case, which is a thinly veiled attempt to get inside information about Kresteva's motivations in general, and the ongoing grand-jury investigation in particular. I'd like to state for the record that I find this far preferable to the episode of The Good Wife where Eli found out about a grand jury's proceedings by hiding in a bathroom stall. During Lucca's cross-examination of one of the witnesses, they find out that a major client was approached by Andrew Hart, the lawyer who tried to steal Julius from the firm earlier in the episode. Hart used the grand-jury investigation as a reason why the client should leave their firm — weeks before the grand jury was even convened. Andrew's advance knowledge of the grand jury proceedings is a huge blow to Kresteva's credibility.
In an excellent callback to the first episode of the series, it comes out that Diane told Adrian about the camera footage that won his client's police-brutality case. Diane did it as a sort of "fuck you" to her former firm and "thank you" to Adrian for giving her a new job, but sharing information like that is a disbarrable offense. Diane tells Adrian that she's going to be indicted — Kresteva seems hell-bent on linking her to the Ponzi scheme — and he needs to let her resign. Adrian asks if she's guilty of anything other than having the wrong friends, and when Diane says no, he tells her he's not running scared from "motherfuckers" like Kresteva, and they'll fight him off together.
But Maia overhears that whole conversation, and it leads to another summit with her father. He admits that he's setting Diane up to take a fall to keep Maia and her mother out of prison. In exchange, Kresteva's going to recommend a ten-year sentence, rather than life in prison without parole. Henry says he wants to hold his grandchildren one day, not die in prison, and Maia spits back that if he takes Diane down, he will never see his hypothetical future grandchildren, no matter how long he's in prison. And so, when he's called to testify in the tortious interference case, he tells the truth: Kresteva offered him a plea bargain that he had no authorization to give.
Kresteva is summarily fired — although it's not clear whether Spencer will be able to carry on the grand-jury investigation in his absence — and he goes to Elsbeth's office to break the news in person. "Congratulations!" he says. "I've been relieved of my duties." She busts his balls for a minute before saying she's just relieved it's over. "That's funny," he says, and in response to her confusion, says, "I just think it's funny that you think this is over." The good fight is never over, but it's sad to think that before long, this season of The Good Fight will be.