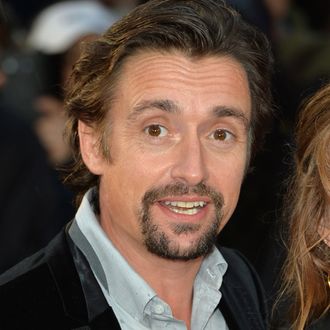 Photo: Anthony Harvey/Getty Images
While in Mozambique, Africa, shooting a new segment for his Amazon motoring series The Grand Tour, Richard Hammond sustained serious injuries that warranted emergency medical attention upon falling off his motorbike in a remote part of the country. Per the Guardian, Hammond was reportedly laid on the side of a road, unconscious, before being taken to a hospital. He has since fully recovered. "I banged my head, yes, along with pretty much everything else apart from my left thumb, which remains un-bruised," Hammond wrote on his DriveTube blog. "Can't tell you more yet about the how and why of it; that's all for later in the year on the show. As for injuries; well put it this way, I don't think I can get a book out of it." Ever the supportive co-host, The Grand Tour's Jeremy Clarkson — who said Hammond "really did hurt himself quite badly" — also chimed in on Twitter regarding the crash: "Doctors say Richard Hammond suffered no damage to his brain in his bike crash. Because he hasn't got one." How nice!
This is the second time Hammond has been severely injured while shooting a motoring series. In 2006, while still a co-host on BBC's Top Gear, he nearly died after crashing a high-speed dragster that was traveling at over 260 miles per hour. After spending over a day in a coma and many weeks in a hospital, he eventually made a full recovery. As a result of his life-threatening experience, he released a memoir, On the Edge, that detailed how his life changed following the accident.