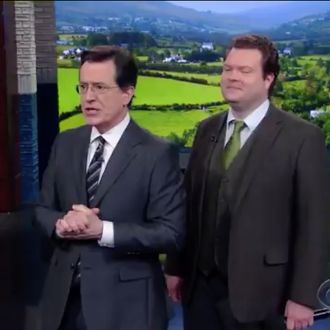 Stephen Colbert and Karl Scully.
Photo: The Late Show/CBS
Happy St. Patrick's Day, ye Irish and Irish-today-only alike! If you're reading this, you're probably in a bar bathroom somewhere. Hello! We know your drunkest, and possibly saddest, hours are likely ahead of you. So when you get to that place, please return to this post and listen to The Late Show With Stephen Colbert's excellent take on the Irish classic "Danny Boy." Normally reserved for funerals and other solemn occasions, this refresh — beautifully sung by world-famous Irish tenor Karl Scully — gives the age-old tune a new shine. In this version, no one dies and someone has (slight spoiler) perfected cryogenic technology. Enjoy, and Happy St. Patrick's Day, one and all. May all of your children be black belts in karate.