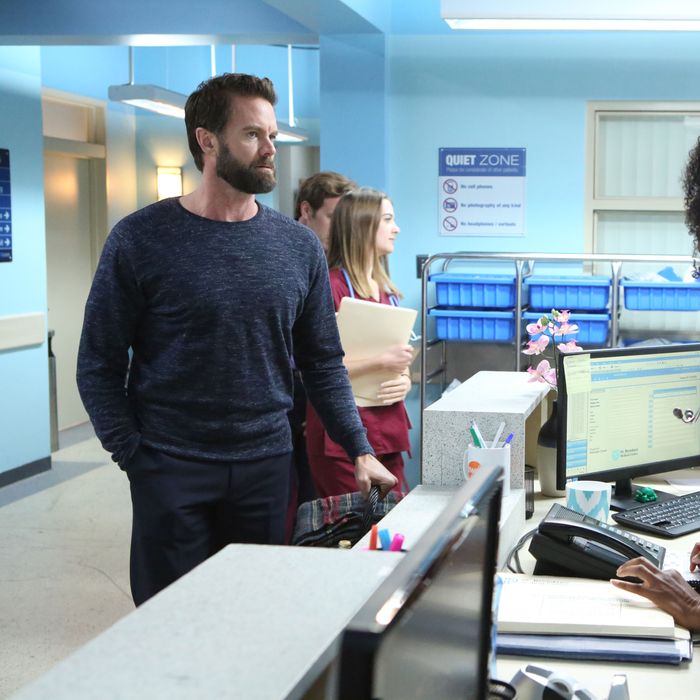 Garret Dillahunt as Jody.
Photo: Evans Vestal Ward/Hulu
The Mindy Project is hitting its stride with this season (and possibly series) finale. The throwaway lines are as on point as ever, starting with Jeremy scolding the staff not to answer the office phone with, "You have 30 seconds, wow me." The romantic story lines are at a boil, starting with the very first scene, in which a men's choir invades the morning staff meeting singing "Dixieland" so Colette can propose to Karen while wearing a sweet pink suit and pearls.
Of course Karen says yes, and of course this plays into the bigger story line that has been afoot: Ben was planning to propose to Mindy before Mindy gave him a maybe true, maybe defensive speech about how she doesn't want to get married. In this episode, as Morgan tells Ben about Colette's proposal, Ben decides to confide in Morgan about his own scuttled proposal plans. He explains that he even bought a "princess-cut blood diamond, her favorite."
There is yet a third romantic plotline heating up: Jeremy asks Anna to join him for the Squares Exhibit at the Museum of Geometry's opening night. But her soon-to-be-ex, Tim, has also been texting her asking for a second chance. Jeremy advises her, "Go with your gut. It's usually right. Except for that year I thought I could pull off one dangly earring." Anna decides not to text Tim back, though it's not clear whether this has anything to do with Jeremy's poor jewelry decisions of the past.
All three of these love plots naturally come to a head at the party Jody is planning to celebrate Colette's engagement. The theme is "Fried Green Tomatoes," which should be the theme of all parties from now on.
Morgan is worried that he inadvertently talked Mindy out of marriage, so he brings her a stack of bridal magazines. He also asks if she's worried about relating to Ben's Jewish family. "Just don't talk to them about your theories on Israel," he advises. Mindy: "I don't know what it is. Is it a place? Is it an idea?" Morgan, for once, offers sage words: "I would just leave the whole area alone."
Jody and Mindy, on the other hand, are making trouble for Colette's engagement, albeit unwittingly. They pontificate a little too much in the lunchroom about their own views of marriage (or in Mindy's case, alleged views on marriage). "When you stay single long enough, marriage starts to become less like a bond and more like one of those little plastic cubes where they imprison superheroes to deprive them of their superpowers," quoth Jody. "My life is so fulfilling that the idea of having to share it with someone 50-50 forever … I mean, can you imagine? Barf," opines Mindy. Colette looks stricken.
But don't worry that anyone is about to get any work done in the office, because soon enough Tim shows up to talk Anna into coming back home. "Your Japanese toilet misses you, your panic room misses you, and I miss you," he says, delivering a message that 100 percent deserves its own Hallmark card. Anna reminds him that he cheated on her — and with her closet organizer, no less. That said, Anna hasn't been sleeping well in her Airbnb with a poorly executed nautical theme. (Apparently that dream of Anna living with Mindy while wearing matching pajamas full-time is not to be.) She agrees to think about coming by the apartment for a drink. Jeremy catches this near-reconciliation, and I am loving the love triangle here. It's the first time I've been fully invested in Jeremy's love life, which he deserves.
When Mindy has Ben's daughter Lindsay over for a "girls' night" that evening, she asks her to babysit Leo for the engagement party the next day, prompting Lindsay to accidentally reveal to Mindy that Ben was planning to propose. He even sold his comic book with the first appearance of something called "Golden Age Green Lantern"? Apparently this is a big deal, even if when I first heard it I thought they were saying "golden-H Green Lantern." Mindy confronts Ben about his planned proposal, but knowingly fibs about why she said she didn't want to get married: "It's just one of those institutions I don't support, like the FDA or libraries." Of course, in truth, Mindy has always wanted to get married. She's clearly just confused by her ambivalence now in the wake of her other scuttled engagements.
Colette's engagement anxiety increases when she and Karen ask Morgan to move out of the apartment. Karen explains to Colette that marriage means less time with your friends. When Colette complains that she likes her friends, Karen replies, "Not as much as you're gonna like sitting in our apartment talking about our relationship!" Uh-oh.
At the party later, Jody adds one final blow: "You must be so happy knowing who you're going to be lying next to for eternity." The blows just keep coming for all of our lovebirds. When Ben calmly notes to Mindy's friends that "Mindy's just not the marriage type," they guffaw, then pile on the contrary evidence. Vera Wang has a restraining order against Mindy. Mindy's wedding Pinterest once shut down an entire server. Then Mr. Ziev shows up with our fair Dr. Ziev, much to Jeremy's chagrin.
I am here for all of this. Karen steps up to make a speech (a.k.a. sing a song) about her relationship with Colette, and Colette ends up sneaking out the window and shimmying down the outside of the building to escape. Mr. Ziev excuses himself from Anna ("I see someone I fired once. I'm going to go make him uncomfortable"), allowing Jeremy to swoop in. When he questions why she's with her ex, she explains that she went to the apartment to get her food dehydrator, and they "fell into a classic Tim and Anna fun day." For the record, that entails: "He screamed on a conference call and I checked our tap water's pH." When Jeremy convinces her that she can do just fine without Tim, Tim punches Jeremy. And in the aftermath of the party, Morgan agrees to break up with Karen for Colette.
Oh! One more thing! Mindy, Lindsay, and Leo propose to Ben! Mindy wants to be a family! "I don't need to get married anymore," she says. "I want to get married." She gives him back his valuable comic book, and I'm crying partly for Mindy and partly because Beyoncé's "All Night" is playing and it always chokes me up.
Of course, in the final moment, Mindy does have a funny look on her face — like not entirely happy — but for now I'll chalk that up to keeping the door open for season six. Just in case this is it for The Mindy Project, I want to say that it's been such a pleasure watching Mindy Kaling in full creative bloom for these five seasons, and watching Mindy Lahiri in all her messy, terrifying wonderfulness.