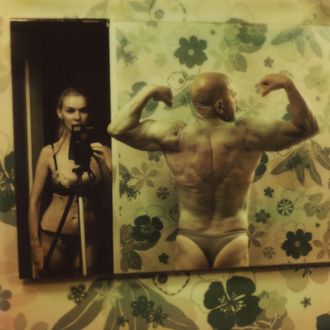 My private theory of American sexuality is if you saw your parents naked while you were growing up, you'll be messed up. Of course, if you didn't see them naked then you're probably messed up too. And, yes, I know it's often quite normal between mothers and daughters — and that people in other parts of the world are often more comfortable with nudity within the family. But in this country, things get complicated — these powerful trance-inducing American pheromones crossed with Nabokovian taboo.
Those complications — the contrast of America and Europe, young and old, male and female sexualities — spark in artist Aneta Bartos's haunted, staged photographs of herself partially clad in bra and panties or camisoles with her Speedo-wearing, bald, bodybuilder father. They're both from Poland. She lives in Brooklyn; he's still in Poland, where the pics were taken. One image in particular stayed with me long after I left the Spring Break Art Fair last weekend — the most memorable thing I saw at any of the Armory Week fairs in New York. The picture hums with two uncanny darkening selves.
Where does the photograph's power emanate from? The dreamy atmosphere is only a foyer to the effect. I think Bartos's intense awareness of her own sexuality is part of it — how she's stripped down for these pictures. At the same time, her father is as intense, but about his own narcissistic obsession — his cartoon idea of masculinity. He's so deep in it that it renders his daughter invisible to him. They both pose for us but pretend not to be aware of the other, displaying a kind of nonsexual sexuality? Or vice versa. And where is the mother here?
We stranger-voyeurs are the reason for the picture. (Or are we their internal scenario's pretext?) Bartos sees everything, though; she looks at us with a knowing gaze that strips away our defenses, makes us confront her love, hate, perversion, helplessness, desire, manipulation, and pain at being this naked and somehow invisible. I cringe, confront a black mirror of hyper-daddy issues or missing-mommy issues and my own American sexuality of never having seen my parents naked. Which side of that line are you on?