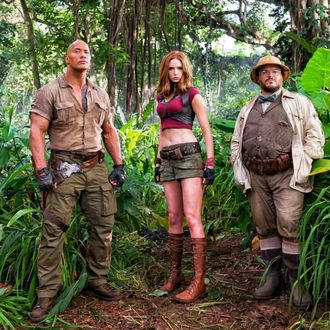 Welcome to the jungle, kids.
Photo: Radar Pictures
Look, this is 2017. Get the 'net. Live in the now. Kids can't get sucked into games they won't even open, which is why Jumanji: Welcome to the Jungle has upgraded the original's mystical board game to a magical video game. According to The Hollywood Reporter, the film opens with four high-school students suffering through detention. As revealed in new footage screened at this week's CinemaCon, their teacher orders them to clean out the basement of the school, and they find an old video game console, which features the game Jumanji. After selecting their avatars, the horrified students are whisked away to a jungle in the bodies of their characters. This at least partially explains Karen Gillan's teeny, early Tomb Raider-esque, extremely jungle-inappropriate outfit, one that the character herself apparently loathes. Jumanji: Welcome to the Jungle is trying to riff on classic video games of the past and, well, have you seen a female video game character from the '90s?