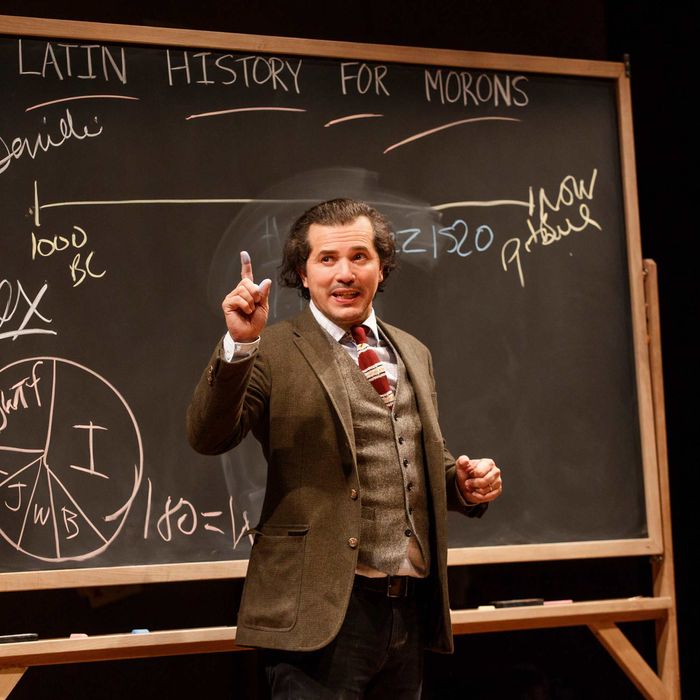 Leguizamo in action.
Photo: Joan Marcus
When a play's title is Latin History for Morons, you may not want to be one of the title characters. Nevertheless, that's what you are in John Leguizamo's new stand-up-act-posing-as-a-theater-piece, which opened at the Public tonight. If that's not very flattering, the show suggests, you should just get over it; Professor Leguizamo has something to teach.
Nominally, it's about the accomplishments of the Latin peoples in the Americas, from the Mayans to the Taino to the Aztecs to the Inca to Sonia Sotomayor to Pitbull the rapper. Their stories are told, and often inhabited, with the same manic and sometimes grating ingenuity that Leguizamo has brought to all his shows, including Ghetto Klown and Spic-o-Rama. At 52, though, the Colombian-born, Queens-raised performer doesn't mind letting you know that the exertions cost him more than when he started, in his 20s. He styles himself differently, too, in academic tweeds and an Irwin Corey haircut; onstage around him, in a very minimal production directed by his longtime collaborator Tony Taccone, there is little scenery besides books and a blackboard. These get quite a workout.
The conceit is slim, and not really meant to be believable: When Leguizamo's eighth-grade son is bullied by a racist classmate, Dad decides to fortify him with some Latin pride. But it turns out that Dad doesn't know much more than tomatoes, potatoes, chocolate, and gold to be proud about, so he starts reading up. We in the audience are supposedly the beneficiaries of his research, though for many of us "morons," only a few details will be news. You begin to suspect that Leguizamo's professed ignorance of his heritage is merely a ploy to justify retailing it, and to get at something else in the process. As Dad keeps derailing his son's class "favorite hero" project with new suggestions from his own investigations, one of those something elses emerges. Latin History for Morons is a secret comedy about bad parenting.
Admittedly, that's a witty idea, and the family material is certainly more laugh-out-loud than the extermination of the Taino. (Jokes in the history portion of the 90-minute monologue are of the "Columbus was the Donald Trump of the Old World" variety.) On the other hand, the bossiness of his Jewish wife ("the lowest high-maintenance woman I know") and the blasé hostility of his daughter, who removes her headphones only to deliver zingers, will not strike anyone as novel. What makes it work is Leguizamo's brilliance as a vocal and physical mimic: He gets at characters from both the inside and the outside at once. If only he got at himself that way! But except when tossing off a salsa or a merengue — he's exceptionally expressive in his many dance breaks — he's tedious imitating his own fecklessness. You never believe it. Rather, in those moments you start to crave another dose of his better alter egos, like the patrician shrink who keeps referring to his "ghet-to" rage as if the word itself were infested.
Then it's back to the pie charts and chalk dust and readings from Howard Zinn. But even though there's nothing very surprising about Latin History for Morons — from its nightclubby introduction to its final, mild switcheroo — a powerful, unlikely theme does start to emerge. That theme is shame. All of the great Latin empires Leguizamo tries to sell to his son were eventually losers, the boy complains: wiped out by Europeans or colonists or the diseases they brought with them. Even those who survived did so by collaborating with the enemy. What kind of heroes are they? Leguizamo's burden, suggested but not really fulfilled, is to find a way to look at a history of great loss and still be proud. Or to question the idea of ethnic pride in the first place. A better version of Latin History for Morons might address those ideas more directly, but this one at least turns them into a good joke. "Honey, I'm sorry, life's gonna fuck you sometimes," he tells his son, whose bully is relentless. "And I don't know, you just have to keep changing positions until it feels good."
Latin History for Morons is at the Public Theater through April 23.