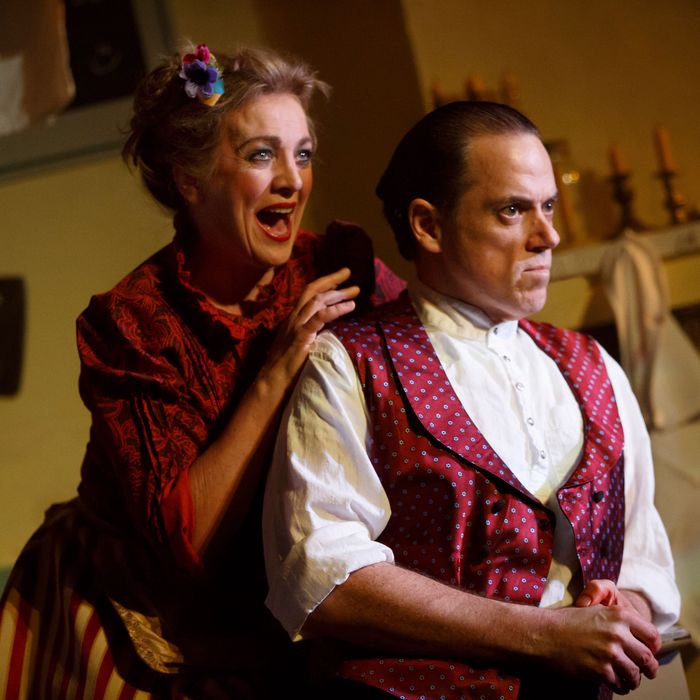 Mrs. Lovett with Sweeney Todd, the demon barber of Barrow Street.
Photo: Joan Marcus
We do not question, despite their umpteen revivals, whether the theater "needs" another production of Othello or The Cherry Orchard or Waiting for Godot. Nor should we with Sweeney Todd, one of the greatest musicals ever written, even if the Stephen Sondheim–Hugh Wheeler thriller is only 38 years old. It should always be playing, and in New York it often has been. The Broadway original in 1979 was followed by the "Teeny Todd" revival of 1989 and the John Doyle actors-on-instruments deconstruction of 2005; City Opera staged it in 1984 and 2004 and the New York Philharmonic turned it into galas in 2000 and 2014. If commercial exigencies usually require a gimmick to make it go, so be it; we don't much get Othello, either, without a Daniel Craig. And a gimmick, Sondheim taught us in Gypsy, is what you gotta have.
Possibly the best gimmick ever trotted out in support of Sweeney Todd is the one informing the delightful Off Broadway revival that opens tonight at the Barrow Street Theatre — or rather at Mrs. Lovett's pie shop, which has temporarily taken over the premises. Seated at communal tables and on uncomfortable benches, audience members become the customers at that lady's Victorian Fleet Street establishment, very close witnesses indeed (the "shop" seats 130) to the hilarity and mayhem that ensue there. Not only do you get the grisly-funny story itself, in which Todd, a vengeful barber, murders customers whom Mrs. Lovett turns into fillings, but for an extra $20 you can even buy beforehand a meat-pie-and-mashed-potatoes dinner. Made from a recipe by former White House pastry chef Bill Yosses, the pies (available also in a vegetarian version) are delicious.
So is the execution of the gimmick, which carries over the décor and atmosphere of Harrington's, the actual London shop in which this production originated in 2014. As you enter, you will be hard-pressed to discover any trappings of a theater at all. (Look behind the ventilation grilles, though.) Only when the door shuts and the misterioso prelude begins, interrupted by the deafening shrill of a whistle, will you understand, with a frisson of anticipation, that you are not just potential observers of the story but also potential ingredients. The gimmick, and the close quarters it entails, make this the most frightening Sweeney Todd I've seen. (It was hard to be frightened in the 1,900-seat Uris Theatre — now the Gershwin — where the original played.) The action surrounds and encompasses you; at times, Todd himself, in a wild-eyed performance by Jeremy Secomb, will leap onto your table and seem to stalk you specifically. Secomb, one of four actors brought over from the British production, plays Sweeney as a flat-out psychopath, complete with the kind of stare that would make you walk to the other end of a subway platform. He is also a screamer, which may make you one too. Inhabiting Todd's rage at a judicial system that stole his young wife and then shipped him to an Australian penal colony for life, he is as apt to yell the score as to sing it.
Wherever possible, the production makes that choice as well. Perhaps compensating for its three-player orchestration — piano, violin, and clarinet, down from the original 26 — the director Bill Buckhurst frequently has his cast bellowing in a space that doesn't require it. It's very effective, if at a cost to beauty. Similarly, cuts in the musical sequence that seem justified by timing (this Sweeney runs two hours and 45 minutes) distort the experience somewhat. Take Sondheim's setting of a scene in the second act when Todd writes a letter to lure his nemesis, Judge Turpin, to the barbershop. In the original, Todd composes the text silently while a spooky choir sings it, phrase by phrase. It's gorgeous vocal writing and a clever pause in the pace of the plotting as the story moves toward its frenetic, bloody climax. But in this production, Todd merely speaks the text and is done; the haunting way his words hang in the air when sung is lost.
Yes, that's a nicety, and Sondheim, who is never precious about his work, has heartily endorsed this production. So do I. Nevertheless, I am prompted to consider the stylistic concerns that informed the creation of Sweeney Todd in the first place. The engine of its effectiveness is contrast, both in the moment and in sequence. At the climax of Act One, for instance, the mad scene of Todd's epiphany ("We all deserve to die!") is immediately followed by one of the funniest songs in musical theater, "A Little Priest," in which the protagonists pun deliriously on possible new pie flavors. ("We have some shepherd's pie peppered / with actual shepherd on top.") Moments of greatest terror, as when Todd prepares to shave Judge Turpin, are set to the most languorously lyrical melodies. ("Pretty Women.") The first big love song ("My Friends") is sung by Todd to his blades. And another great love song, "Johanna," is actually three totally different numbers about the same young woman: Todd's daughter, whom he is resigned to have lost; the sailor Antony's forbidden crush, whom he rapturously dreams of rescuing; and Turpin's imprisoned ward, whom he decides to marry in a masturbatory grunt of lust.
This goes on and on; the score is a marvel of ingenious counterprogramming. That's what makes the thrills thrill. The new production unfortunately flattens some of these effects. As Mrs. Lovett, Siobhán McCarthy gets huge laughs from the character's cheerful amorality: It is, after all, her "bright idea" not to waste the corpses. But there is something shrill and cool in her performance, and Secomb's, that while apt for the text gives short shrift to the subtext. From the setting we understand that everyone in the room is involved, one way or another, in the world's various ecologies of unfairness, but from the current leads you do not feel like it matters much. There's not much poetry to them, despite Sondheim's frequent suggestions of soulfulness, at least in Todd. ("Back of his smile, under his word / Sweeney heard music that nobody heard.") I wonder what the Americans Carolee Carmello and Norm Lewis will do with the parts when they take over on April 11.
In the meantime this is still a dandy cast, with especially fine turns from Duncan Smith, as a loathsome Turpin, and Brad Oscar, perfectly greasy as his beadle. And it may be that no perfect Sweeney Todd ever did or could exist, given the size of the contrasts it encompasses. You want the overwhelming loveliness of the score in its full glory but also the intimate terrors of the story in your face. You want the smart analysis of class and power but also the yob rudeness of the music hall tradition. You want the tasty pie without knowing what's in it. Still, when a production gets more than halfway there, it's plenty. This one does. As Mrs. Lovett's customers crow while feasting on their cannibal tarts, "God, that's good!"
Sweeney Todd is at the Barrow Street Theatre through August 13.