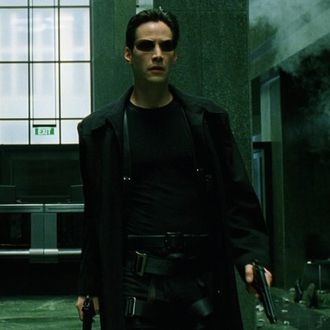 The Matrix, 1999-style.
Photo: Warner Bros. Entertainment
When the world we live in seems increasingly like a computer-generated simulation, why not return to the source of such notions? At least, that's the thinking over at Warner Bros., where, according to The Hollywood Reporter, a reboot of 1999's The Matrix is in the works. Thus far, Michael B. Jordan is reportedly in the running to take on the Neo mantle, with a script treatment to be penned by Zak Penn (screenwriter of Ready Player One and X2, among others — as well as, infamously, Last Action Hero when he was just 23). Notably missing in the talks so far are original directorial team the Wachowskis, which means one Mr. Keanu Reeves is also not in sight; per THR, he said he'd consider reentering the Matrix if, and only if, the legendary duo was involved. More on this reboot is sure to come, but in the meantime, best dust off your leathers and wraparound sunglasses in preparation.