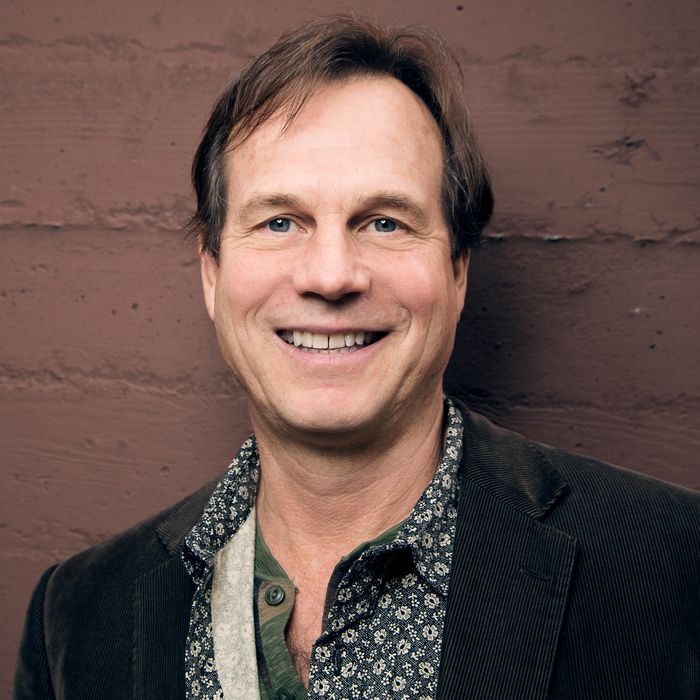 Bill Paxton.
Photo: Chelsea Lauren/Getty Images
"Can I just have a sip of that?" In 75-degree weather, on a beach in Cannes, Bill Paxton drank my cold coffee. He smiled at nobody in particular, as if he had just been regaled with a great story.
Paxton should have known — he was full of them himself. The actor, who died Sunday at 61 following complications from heart surgery, had a prolific career embodying memorable characters like a punk leader in Terminator, Private Hudson in Aliens, Bill Harding in Twister, and the manipulative polygamist Bill Henrickson in HBO's Big Love. Even Paxton's characters were vibrant storytellers; his treasure-hunting Brock Lovett in Titanic, otherwise known as "the guy who explained what happened to the ship," remains the definitive voice of the historic tragedy.
But Paxton's greatest story of all has nothing to do with his Hollywood performances. In fact, it's not even the story behind that now-iconic photograph of an 8-year-old Bill riding on his father's shoulders to get a glimpse of President John F. Kennedy on November 22, 1963.
Paxton's story is a love story. He told it to me on that beach in France last spring, sipping a cup of cold coffee. In the process, he revealed the romantic heart of a young artist.
Paxton was at the Cannes Film Festival to promote what would be one of his final films: Nathan Morlando's Mean Dreams, a hazy mood piece reminiscent of Terrence Malick's Badlands, about two young teenagers who sever blood ties to be together on the run. Josh Wiggins stars as 15-year-old Jonas, who lives on a farm with his oppressive and uninspiring parents. When a new girl, Casey (Sophie Nélisse), moves in next door, Jonas becomes privy to her abusive home life and rescues her on a whim. The young couple flees into the woods; Paxton plays Casey's volatile father, a police chief, hot on their trail.
"I had a similar situation when I was a younger man," Paxton told me. "My first love was a gal that I'd met in my hometown."
Paxton grew up in Fort Worth, Texas, where his father owned the family's lumber business and was a patron of the arts. He moved to L.A. to pursue acting, where he worked in the art department under Roger Corman, "the only non-union filmmaker."
There he made films with friends out in L.A., including The Egyptian Princess ("an incredible movie") which he starred in and produced, and which won him an AFI grant. "My heroes were guys who were actors and filmmakers, he told me. "Buster Keaton, Robert Redford, Clint Eastwood."
Paxton wanted to go to film school, but his dismal SAT scores were a barrier to entry; he was turned down by both USC and UCLA. "I was thinking about going to England and studying acting in night school and working over there at the Hard Rock Cafe," he said. "I had that lined up."
Instead, he got into trouble. "I got busted and had to come back to Fort Worth," Paxton recalled. That's where he met his first love. "She said she was 19, but it turned out she was 17. We fell madly in love and had our first real physical and emotional relationship."
The young woman was from the upper echelon of Fort Worth society. "Her family was very wealthy and prominent, but her mother and father were Dr. Jekyll–and–Mr. Hyde drunks," said Paxton. "Every night, it was like Who's Afraid of Virginia Woolf."
She would often call Paxton, crying; he says he could hear screaming in the background. "We wouldn't have anywhere to go, so we would go out to the golf course with a blanket," he recalled. "Very quickly, this thing came over me that I wanted to protect her. I wanted to get her away from these people. She was a beautiful thing that was just being marred by this situation. And she had to grow up so fast. It went right to the core of my being."
The girl's parents deeply disapproved of the relationship — particularly her mother, who found Paxton to be something of a hapless dreamer — and she was sent off to New York. She was banned from seeing Paxton.
"Years later, we reunited at a party," Paxton continued. "There was a big grand staircase in this mansion. I ran up the stairs and caught up to her and she was crying. I got her to promise to go out with me on New Year's."
To ring in the year, Paxton chartered a private plane to fly the couple over Forth Worth. They landed in a park near the river, where they could see the clock tower turn at midnight. "But it was a fiasco of a night," Paxton said. "We parked, and she let me make love to her, but it was like she was a different person. There was something not happening there. There was no reciprocation."
After that romantic night, they parted ways. The woman went to Forth Worth to finish college, while Paxton studied acting at NYU under Stella Adler. "I was never a star in her class," laughed Paxton. "She was very tough, very intense, in her 70s, and a very fiery lady." (Though he did learn from Adler, Paxton credits his evolution to the acting coach Vincent Chase, who also famously taught Marilyn Monroe, Jim Carrey, and others; Mark Wahlberg named Adrien Grenier's character in Entourage after him.)
Inexplicably, his ex later reappeared in Paxton's life. Things were different now. "It had been five years, and we realized we still had very strong feelings, so I asked her to marry me in front of the Pierre Hotel," Paxton said. "I was going to plan a big wedding, a kind of society event, but her mother was so tough. I remember she called me on the phone and I could hear her crying and her mother in the background, and I was like, that's it."
Like Jonas in Mean Dreams, Paxton went to the woman's house to save her from her parents. According to Paxton, her mother "got up out of the chair and hit me so hard in the face. I said, 'If you were a man, I'd knock you down.' And we took off."
But blood is thicker than water. "She finally won in the end," Paxton said with only a hint of wistfulness. The marriage lasted merely six months.
When Paxton read the script for Mean Dreams, he saw an opportunity to embody the arch-nemesis of his idealistic youth. "On a subconscious level, I knew exactly what the character had to be," Paxton said. "The guilt. The anger. All of it."
Behind every love story is a sliding door — a parallel universe of what could have been. As we live out our deepest fantasies in movies, it's fitting that some of the most moving scenes in recent Hollywood history are of lovers meeting years after they have chosen to leave each other behind. (See: La La Land or Blue Is the Warmest Color.)
Decades after their quixotic love affair, Paxton encountered the woman one more time.
The meeting, he said, was similar to the end of Splendor in the Grass. "In the last scene, when they finally see each other again, she asks him if she's happy. She says, 'I don't really think about being happy.'"
Paxton was lucky: He married another woman and had "a great life with her." But his youthful love affair was on his mind as he discussed Mean Dreams. "Weirdly enough, on a subconscious level," he said, "I played my mother-in-law."