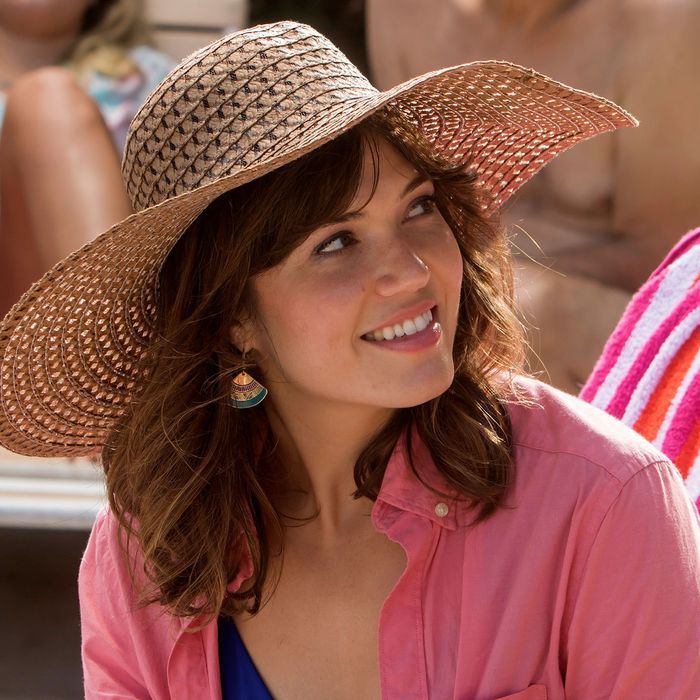 Mandy Moore as Rebecca.
Photo: Ron Batzdorff/NBC
Much as been written about Milo Ventimiglia's facial hair on NBC's cry-fest family drama This Is Us. Don't get me wrong: From beard to mustache, that facial hair has magical powers in all of its forms. But there is another head-based accoutrement on This Is Us that deserves its day in the sun: Mandy Moore's glorious headwear. As Rebecca Pearson, that girl has hats on hats on hats.
Yes, other characters also wear hats — hell, William Hill's fedora was such a part of the man's life, it becomes integral to his memorial service. That's one great hat! But Rebecca Pearson's hats tell stories. Sometimes that story is a happy one. Sometimes, a very sad one. And sometimes that story is, "Hey! Isn't this a great hat I have on my head?" To know the hats that adorn Rebecca Pearson's head is to understand her character. Here are the best of the bunch.
The Pink Beret of Broken Dreams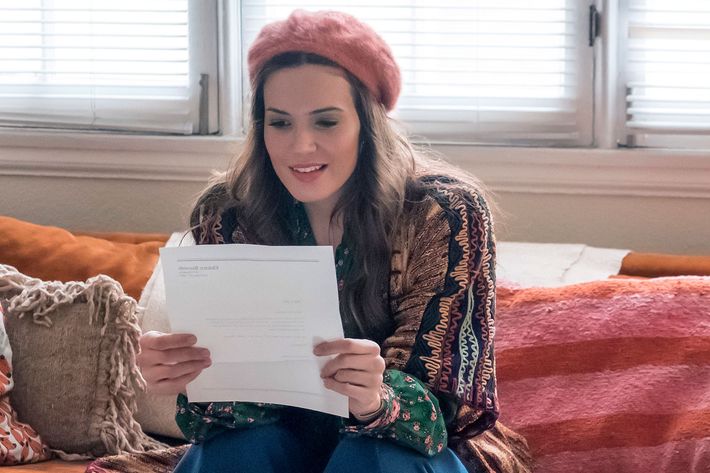 Rebecca is wearing this beret the moment she opens a letter from the recording studio where she sent her demo tape. Alas, they aren't fans of her music. She doesn't weep, though her dreams may be crushed. How could she with such a vibrant color covering her perfectly coiffed head? The pink beret gives Rebecca the power to swallow her pride and do the scariest thing she's ever had to do in her life up to this point: Say yes to a date with a boring guy who works in finance.
The Marital Flower Crown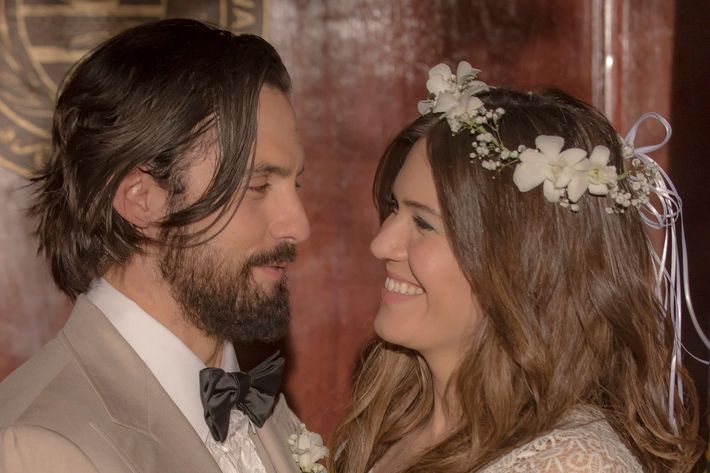 Rebecca was a '70s bride, so the boho-chic flower crown she chooses as her veil makes a lot of sense. Still, we all know she definitely had a big-ass white beret sitting in her closet, should she have a last minute change of heart regarding wedding day head dressing. A well-prepared bride is a happy bride.
The Knitted Babymaker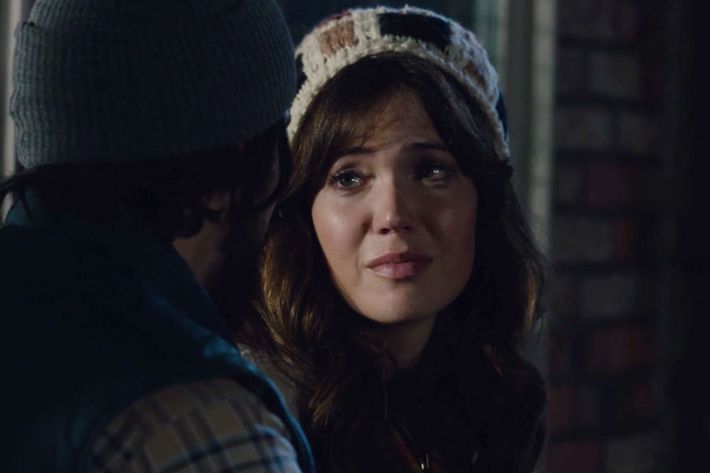 Rebecca wears this hat during Super Bowl XIV, when she finally admits to Jack that even though she's scared of messing up their perfect little life, she is ready to have kids. After they proceed to get into it in the bar bathroom, lo and behold, Rebecca winds up pregnant with triplets! I don't want to say this hat has some fertility magic woven into its adorable pom-pom, but I don't not want to say it, you know?
The Purple Adventure Beret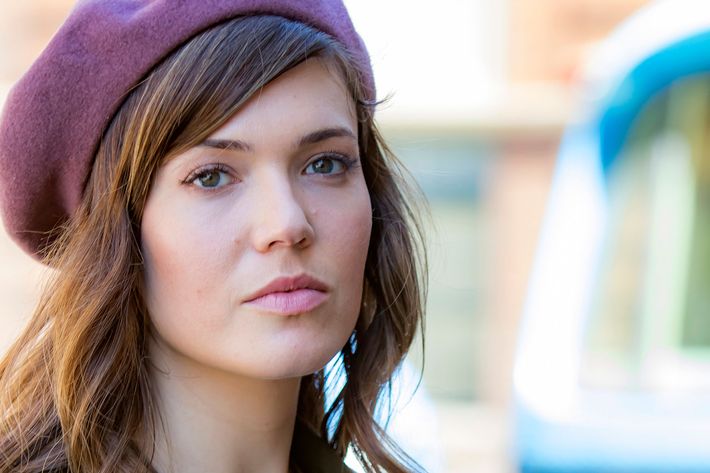 You know this purple beret is important because it gets its very own montage set to "Time After Time." Also, because it's the hat Rebecca chooses to wear while trying to track down her adopted son's biological father in order to spark a richer mother-son relationship. But mostly it's the song.
The Fabulously Gigantic Sun Hat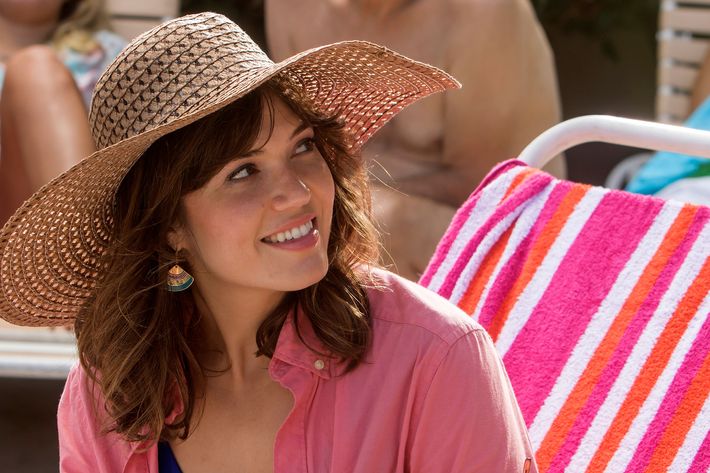 Taking three rowdy children to a crowded public pool on the hottest day of the year sounds like actual hell. At least Rebecca looks like a bombshell whilst suffering through such a feat! It's the oldest trick in the Lady Book, really: If you know you're going to be miserable, toss on a hat and giant sunnies and phone it in until you can crawl back into bed. How else do you think we survive baby showers?
The Thanksgiving Beret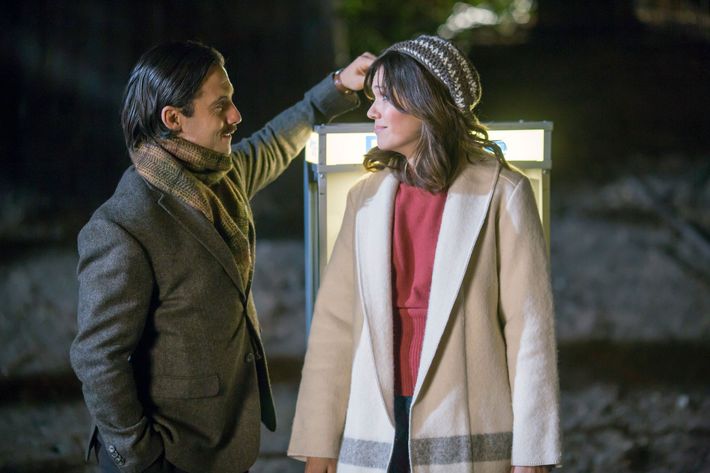 Now this is the kind of gem you'd find in a secondhand store. Or maybe it's handmade. Who's to say? Rebecca is full of secrets, so she probably wouldn't reveal her methods even if you asked. This Thanksgiving beret empowers Rebecca to tell off her shrill mother once and for all. No, we will not be choking down your dry turkey this holiday season, mom! And yes, my head is perfectly accessorized! Like you even have to ask. Gosh!
The Everyday, No-Nonsense Beret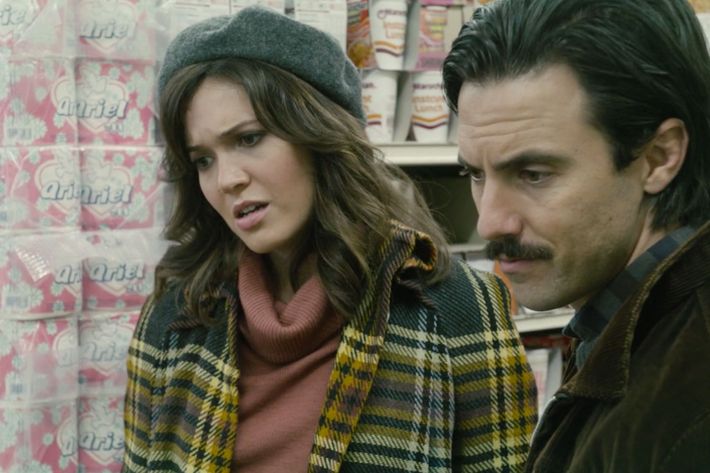 Much like the public pool, a grocery run with three kids and a Milo Ventimiglia can be a daunting task. A lady must steel herself. Rebecca's armor of choice? This steely gray beret. Now, point me to the wine aisle, good sir!
The Flat-Brimmed Time Machine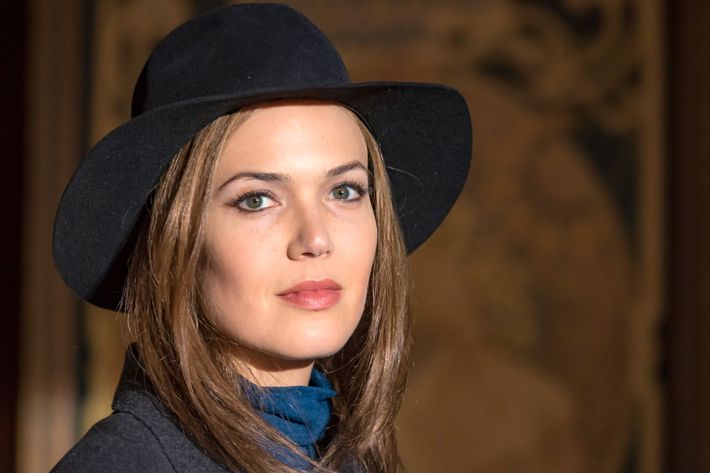 Rebecca's not like a regular mom, she's a cool mom. Which is why when she goes to band practice after many years and having three children, she puts on a flat-brimmed hat. It makes her feel young. It makes her feel cool. We cannot fault her for this. The hat is a time machine. No wonder Jack gets so uptight about his wife pursuing music again — he knows the powers of that hat!

The Boy, Bye Feather-Brimmed Hat [NOT PICTURED]
Rebecca plops this bad boy on her gorgeous head as she rushes out the door to go on tour with her band and leave behind her surly husband who barely gives her a peck good-bye. As punishment for his iciness, Rebecca only allows us the briefest glimpse of what might be her most daring hat to date. What hell hath you wrought for us, Jack?
The Jazzy Feather Hairpiece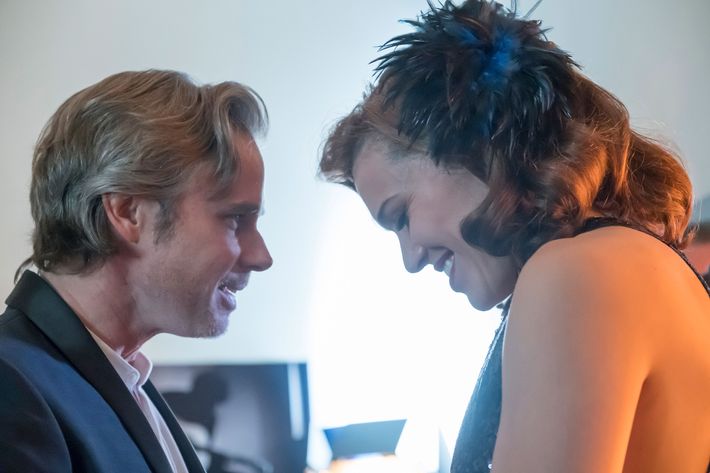 Was Mandy Moore actually supposed to be a jazz-club singer and was simply born decades too late? Is this the real twist of This Is Us?
The Plastic Fedora of Forgiveness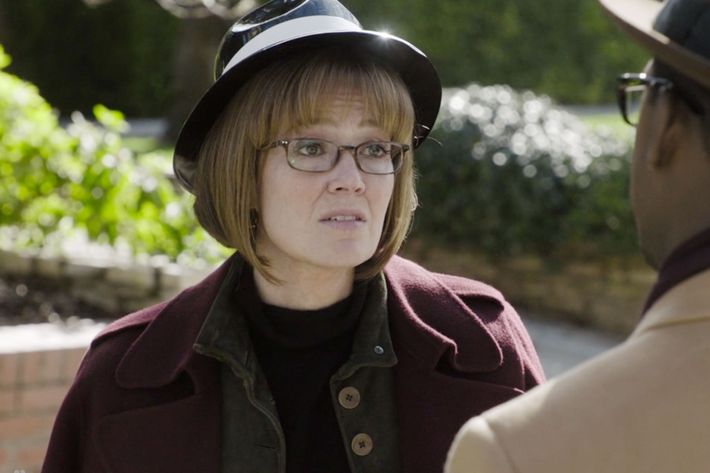 Forgiving your mother for keeping your biological father a secret for 36 years is a big ask. I imagine it is much easier to do when your mother is wearing a plastic fedora. You see her tears, you listen to her heartfelt apology, but before things get too intense, you look up at her ridiculous hat. How can you not forgive this woman? Plastic fedoras for all family conflicts in 2017!