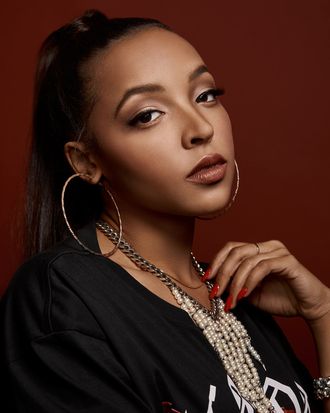 Tinashe's done waiting.
Photo: Michael Thad Carter/Vulture
For too many pop stars in the making, there's a tiresome rigamarole to putting out new music: Suits at the label have to be convinced it'll sell (or, since it's 2017, stream), it has to either be launched like a sneak attack or rolled out with the marketing scheme du jour, and then put in the hands of the Twitter jury for the rendering of a final verdict. No one knows this better than Tinashe, who spent the whole of 2016 coming up with reasons why her sophomore album Joyride had been shelved since November 2015; her label, RCA, bore the brunt of her blame. Now, she's done explaining.

Moments after releasing "Flame," the latest of many singles meant for Joyride (though she assures me this should be the last before Joyride's actual release), she's come to terms with how the process has played out. "I'm not setting any limits on myself even as far as when the album needs to be out because I did that last year," she says backstage prior to headlining Sony's Lost in Music showcase Wednesday night at SXSW. "At this point, I'm just living my life, releasing new music, and trying to make art."
That spirit of free-flow shows in "Flame," a slow-burning slice of Big Pop produced by Sir Nolan that fits more in line with the previously released should've-been-a-hit "Superlove" than the brooding R&B of her last mixtape Nightride. The constant shift in sound, jarring as it may be for both fans and management, could be just what Tinashe needs to break out of label limbo by exceeding expectations. "In the past, I've felt limited by genre titles and I don't want to be stuck in a box. I'm a versatile person. This is just another side of me," she says. "I went into Joyride ready to evolve and grow as an artist and challenge my audience to grow with me."
She hopes the same goes for what consumer culture will regard as capital-A albums moving forward, as the definition continues to blur. Should Nightride, a mixtape with 15 songs, have been considered any less simply because it preceded what's been billed as the main event? "It's not black and white anymore. What was Chance the Rapper's last project, an album or mixtape? It doesn't really matter," she argues. "I put the same amount of passion and effort into my 'mixtapes' as I do my albums. It's not throwaway songs or extras; this is a project I gave you for free."

A half hour later, Tinashe breaks from the literal choreography of the pop machine (her dance expertise has never been up for debate) to perform "Flame" for the first time. The song had been widely released for under an hour, so for many in the room, bombarded on all sides by large video screens projecting old Tinashe videos, this was their introduction to it. To mark the occasion of this new direction, she sang its yearning, booming chorus — "tell me you still got the flame for me" — loud and clear with no frills. As exhausting as being a rising R&B star has appeared to be for Tinashe over the last two years, there's nothing like seeing the singer excited to power through her show only so she can get back to reading reactions to "Flame" to remind cynics why artists put themselves through all this.

This post has been corrected to show that Sir Nolan produced "Flame" and not Stargate.