TNT's Animal Kingdom brought a little SoCal to South by Southwest. The gritty crime drama centered on a matriarch-led clan of thieving, womanizing brothers in Southern California returns to TNT for its second season on May 30.
Animal Kingdom's Austin popup space included a surfable wave pool (complete with pro surfers), a custom Vans bar, and more. We caught up with three of Animal Kingdom's "Cody boys" — Shawn Hatosy (Pope), Finn Cole (J), and Ben Robson (Craig) — after they gave surfing in the middle of Austin a whirl. We talked about the family dynamic offscreen, the upcoming season two premiere (which picks up on the heels of a murder and a massive heist), and more.
I hear some of you literally went surfing at South by Southwest. Tell me about that experience.
Shawn Hatosy: Well, Ben Robson who plays Craig, and Finn Cole, who plays J, do a lot of surfing on the show. Thus, they were the brave souls who tackled the FlowRider this afternoon. The weather was not cooperating, but I was there in support of my castmates.
Finn Cole: It was cool. It was cold today, but it was nice. We go out there, we kind of have to learn it pretty quick, and fell off a few times. But it was pretty fun.
Speaking of surfing, the whole Animal Kingdom SXSW experience was designed to bring a bit of SoCal to Austin. Why would you say the SoCal aesthetic and setting is so important to the show?
FC: I think it's an identity thing. It kind of sets us apart from a lot of the other shows on TV … just to have such interesting characters, and to put them in that premise. It builds a cool story line. Also, it gives us the opportunity to explore some really cool surroundings. We can do the surfing, we can do the bike riding, we can do the boat stops, we can do all of that stuff. It gives us an opportunity in the story lines to actually have some fun, and it also gives an identity to the show.
In terms of the show's identity, how would you describe Animal Kingdom for new viewers, and what do you think makes it really stand out from other crime dramas?
FC: It stands out again because of the location that we set it in. It's about a family run by a matriarch, Smurf, wonderfully played by Ellen Barkin. She has this kind of incestuous hold over her sons, and we see it through J's eyes – he's my character. We see him come into the family after his mum overdoses. His mum was Smurf's daughter, and the twin of Pope Cody. She was kind of the outcast of the family, and when she dies, I go and live with this crazy family run by Smurf. It's kind of watching this weird family operate and live day to day, and survive, is what it comes down to. It just comes down to surviving, and not getting caught, and getting away with the jobs that they're trying to pull. It's high-octane drama. Its fast-paced storylines are quick and detailed and well-thought-out. We have the opportunity to do some really, really cool stuff with that.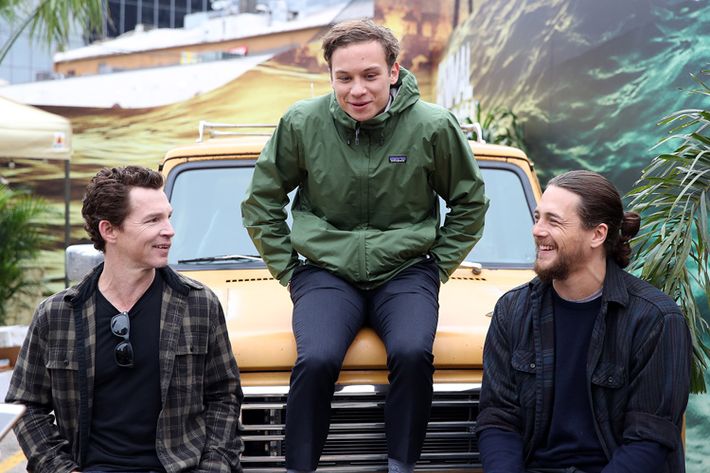 You guys play a family. Would you say you've become brothers of sorts offscreen? I'm wondering what that dynamic is like.
Ben Robson: Well, yes, it's kind of exactly that. I think when we're spending that much time together as well as working through such high levels of drama, you go through everything – you really do laugh and cry together through these incredibly dramatic sort of moments that you experience. Plus, I think going down to Oceanside when we spent a week living together … we really got to know each other outside of the job. So, we're all very close. We enjoy the trips like coming to South by Southwest, because we sort of grow closer as friends, and I definitely think it makes the chemistry onscreen that much more palpable as a result.
What would you say your funniest or most interesting memory of filming season one would be?
BR: Maybe the pilot? Alright, yeah, okay. So probably Craig's opening scene in the pilot … that was pretty much my first day on set with everyone. I just crawled in butt-naked and started my scene and kissed Ellen on the mouth. Basically, naked. And watched everyone else's reactions throughout the entire process.
That's quite the icebreaker.
BR: That was it. Yeah, it was definitely an icebreaker for sure.
What would you say was the hardest scene to film?
BR: I think there's been a lot of hard moments, and I'm kind of speaking on behalf of the others here, but you know I think Shawn really found the moment with Daniella [Alonso] – the climax of the end of season one – a very sort of challenging piece because it was obviously so integral to that ending. I think everyone's had their moments … I think there's very challenging parts, and places to be which are very fun to explore in terms of acting. But obviously, very deep-rooted and heavy, and dark, with the scenes at times.
What are each of you looking forward to most about sharing season two with the world?
BR: I think the thing I'm most excited about for the fans to see in season two is just the return of the Codys, and following on from season one. It's a new trajectory in which all the sort of brothers, the sons of Smurf, are going on and really seeing their ambitions realized, and how they want to go and achieve them. So it's a very interesting dynamic to see how the family splinters after the big argument with Smurf … we all get to know the characters that much better through the way they move on.
SH: Well … it's a departure from last season because we were clearly under Smurf's rule, and she was in the position of power. As she should be, she's Smurf. In season two, we push off, we break away. And for Pope, what that means is … she's managed him his whole life. With his history of mental health issues, the relationship there. I think he kind of needs her management, as much as he hates that … when they break away, Pope finds himself trying to function as a human being without her. In many ways, it's a normalization of Pope, which is an interesting thing to watch.
FC: I'm really looking forward to how the storylines have evolved. In this season, it gets a lot deeper. The fragmentation of the family is really interesting; I'm excited to see what people think, and who people side with. I think that J is a strong character to kind of side with, and to want to win. But it will be interesting because it's not clear from the way that we've been making the show – it's not necessarily definitive as to who you should support and who you want to succeed. So, it's quite interesting. That rarely happens in TV. Often, you've got your heroes and your villains, and in this, it's the opposite of that. There's some great stuff in there, there's some great stunts … I look forward to seeing what people think.
This is paid content produced for an advertiser by New York Brand Studio. The editorial staff of Vulture did not play a role in its creation.