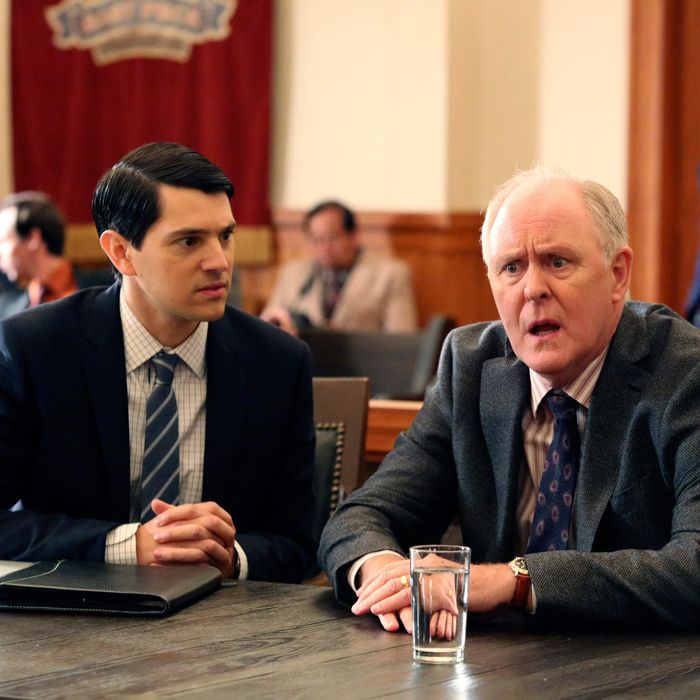 L-R: Nicholas D'Agosto as Josh, John Lithgow as Larry
Photo: Evans Vestal Ward/NBC
Trial & Error is a mockumentary riff on the true-crime genre that's less a biting satire of shows like Making a Murderer and more a silly comedy about quirky small-town oddballs who have no business prosecuting or defending criminals.
Buoyed by a zany lead performance from John Lithgow as a seemingly harmless, yet suspiciously content, professor accused of killing his wife, Trial & Error — which debuts tonight at 10 on NBC before switching to its 9 p.m. time slot — can be amusing at times. But too often, it feels like everyone involved in this series might tear a ligament in their effort to achieve what is supposed to be effortless wackiness.
Executive produced by showrunner Jeff Astrof, Matt Miller, and Jeffrey Blitz, whose producing and directing credits include the documentary Spellbound and Comedy Central's Review, the nuttiness begins when young New York attorney Josh Segal (Nicholas D'Agosto) travels to East Peck, South Carolina, to lay the groundwork in the defense of Larry Henderson (Lithgow), who allegedly pushed his wife through a plate-glass window, resulting in her death. Pretty soon, Josh gets tasked with handling the case on his own, which means that — in keeping with TV rules about what happens in idiosyncratic communities like East Peck — he winds up practicing law out of an office he shares with a taxidermist. (I assume the bowling-alley lawyer's office was already taken.)
Also in keeping with TV rules, Josh is forced to work with a couple of totally useless assistants, including a rube of a lead investigator named Dwayne Reed (Steven Boyer) — yes, there's a joke about the drug store, though no mention of the fact that we just saw a Duane Reade on The Night Of — and an assistant named Anne Flatch (Sherri Shepherd), who suffers from face blindness and an unfortunate tendency to crack up laughing when she hears bad news. Add the flirty, drawling prosecutor Carol Anne Keane (Jayma Mays of Glee) who makes Josh feel both threatened and aroused, and Larry's influential brother-in-law Jeremiah Jefferson Davis (Bob Gunton) who's convinced that Larry is guilty — the tombstone he buys for his sister reads, in part, "Taken Way Too Soon by Larry Henderson" — and you've got an exceedingly steep uphill battle to clear Larry's name.
There's clearly a lot of talent involved here. In addition to the impressive regular cast, several comedy pros pop up in cameo appearances, including Review's Andy Daly as a DNA expert who also happens to be a compulsive masturbator, and Julie Hagerty of Airplane! fame as a pet psychic. (Yes, those descriptions of their characters are, in fact, accurate.)
As a much more ridiculous version of shows like The Jinx or The Staircase, from which it more blatantly borrows, the attempt to determine Larry's guilt or innocence drives the story forward. Having an actor as versatile as Lithgow in that role helps enormously, not simply because he's so talented, but because we've seen him play good guys and bad guys before. That preconditions us to entertain the idea that he could be either one.
The problem that Trial & Error keeps running into is its tendency to do to its jokes what, allegedly, Larry did to his wife, Margaret: push them too far until they die. Larry's preferred form of exercise is roller aerobics, which he refers to as "rollercizing." That term is mildly funny at first, but after Larry repeats it for the third, fourth, and fifth time, it starts to feel like this show isn't just trying to get laughs, but forcibly demanding them. Same goes for all the gags that revolve around Anne's face blindness.
As Josh, D'Agosto (who played Ethan on Masters of Sex) is a decent straight man with shades of Michael Bluth in him. His Jim Halpert game — by which I mean his ability to flash a "you've got to be kidding me" look directly into camera — is also strong. But those qualities also speak to an underlying issue with Trial & Error: that it inadvertently, but unmistakably, invites comparisons to other shows in a way that reminds you that those comedies were more clever and organically hilarious. Ultimately, Trial & Error plays like it's based on the following elevator pitch: "Parks and Recreation … and then the murders began."
To be fair, Parks and Rec took a while to find its groove. The thing about Trial & Error is that it won't necessarily need to settle more comfortably into its characters or setting. Like other limited series, in future seasons, the plan is to switch gears and tackle another crime, after wrapping up the Larry Henderson case.
Deconstructing and poking fun at true crime is a great idea, and Trial & Error demonstrates the potential to have some real fun with that. It just needs to take a breath and figure out how to consistently skate smoothly along, without constantly reminding us that it's rollercizing.