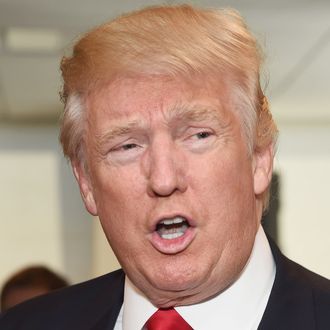 Donald Trump.
Photo: Gary Gershoff/Getty Images for Cantor Fitzgerald
A day after Arnold Schwarzenegger revealed that he would not host another season of The Celebrity Apprentice because of the "baggage" associated with Donald Trump, Trump is unsurprisingly presenting an alternate account of events. Taking to Twitter, Trump claimed that — par for the course during his Apprentice reign — Schwarzenegger was actually fired. "Arnold Schwarzenegger isn't voluntarily leaving the Apprentice, he was fired by his bad (pathetic) ratings, not by me. Sad end to great show," he wrote.
Over the course of Schwarzenegger's brief tenure, the president, who remains credited and paid as an executive producer on the show, has repeatedly gone after Schwarzenegger's performance. He specifically blames Schwarzenegger for a ratings drop, despite evidence of the show's long, steady decline. Despite Trump's tweet, no known decision has been made about The Celebrity Apprentice's future.
Update: Schwarzenegger has followed Trump's accusations with a response, keeping with the theme of personnel changes.