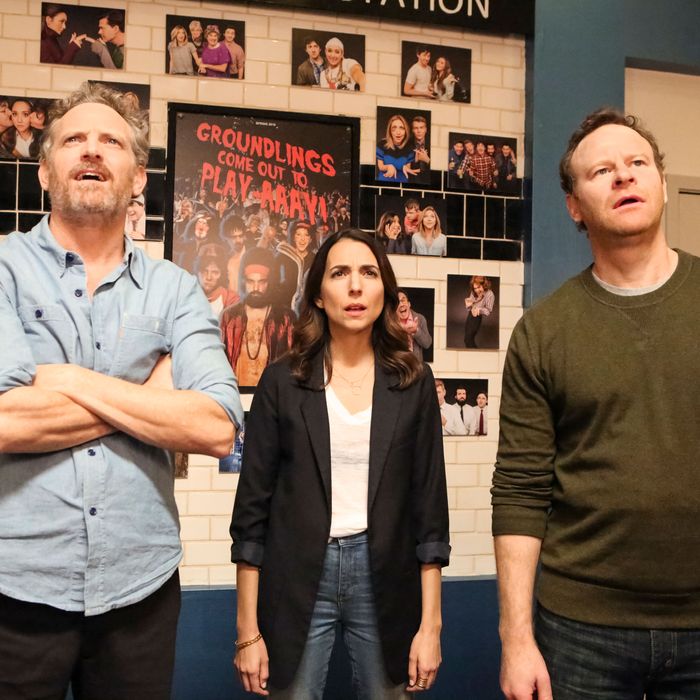 Hugh Davidson, Rachel Ramras, and Larry Dorf in Nobodies.
Photo: Evans Vestal Ward/TV Land
Nobodies is the inside-Hollywood, squirm-comedy version of Waiting for Godot, except Godot is Melissa McCarthy and the people waiting for her are three fellow Groundlings alumni who have attached the star's name to a movie pitch without asking her first. (Spicey is not going to like that.)
The TV Land series, another of the network's attempts to lean into slightly more edgy fare, is actually co-produced by McCarthy and husband Ben Falcone and possesses the same jaded, cockeyed attitude toward show business that pervades shows like Difficult People and BoJack Horseman. In the Nobodies version of L.A., our protagonists Rachel, Hugh, and Larry — Rachel Ramras, Hugh Davidson, and Larry Dorf, all co-executive-producing and playing characters based slightly on themselves — are desperate and socially inept. The shot-callers they're trying to impress are mostly petty and judgmental. And their famous friends and semi-acquaintances, including McCarthy, Falcone, and a parade of other bold-facers that appear throughout the series, are loyal, unless, of course, that loyalty might threaten their careers.
Clearly, there's not a lot of breaking news in these depictions. (Powerful people in Hollywood can be petty? NO!) But even though Nobodies works from a familiar playbook and, like its bumbling heroes, can try a little too hard to ingratiate itself, it's still fun, zippy, and Seinfeldian in its ability to braid together plot based on various humiliations.
The first episode, which debuts Wednesday at 10 p.m., introduces Rachel, Hugh, and Larry, who spend their time backstage at reunion shows for the Groundlings, the aforementioned L.A. improv troupe, and, more often, in their tiny writers' room at Nickelodeon's The Fartlemans, an animated series whose showrunner faces such dilemmas as: Should I cut the scene where the mom farts during a parent-teacher conference or the one where the dog has diarrhea?
Clearly these three middle-aged people are still clamoring for their big break and think they may have found it when Paramount expresses interest in their screenplay, Mr. First Lady. During a pitch meeting, when it becomes clear that said interest hinges upon the trio's connection to their friend Melissa, Rachel blurts out that McCarthy has already said she'll do the movie. Oops.
That's the first of many ill-advised comments, gaffes, and embarrassing missteps for Team Mr. First Lady, whose screwups, usually committed by Rachel or Larry, are so constant, Michael Scott might actually seem quasi-competent by comparison. (In episode two, Rachel can't even leave a voice-mail without assistance, while Larry approaches Allison Janney so aggressively in an elevator that Janney seems remiss for not hitting the alarm button.)
Ramras, Davidson, and Dorf, who actually do know each other, as well as McCarthy and Falcone, from the Groundlings, have an easy, unforced chemistry that makes their bond believable even if their respective allergies to basic normalcy are not. There are also two other enticing reasons to continue with Nobodies. One is to find out whether this screenplay will ever actually become a reality. (I don't think it counts as a spoiler to say that, even though McCarthy eventually makes an appearance, the movie keeps finding new snags to hit.) The other is to see which comedy star will make an appearance next.
Maya Rudolph, Jason Bateman, Kristen Wiig, Bob Odenkirk, Jim Rash, and Nat Faxon are among the many notables who show up in at least one of the first five episodes TV Land made available in advance. That fifth episode — in which the trio is scheduled to go to the Annie Awards while their more notable buddies are at the Emmys — is the best and funniest of the lot, which suggests that Nobodies may continue to sharpen as it progresses. We'll have time to find out for sure since TV Land has already given the go-ahead to a second season that will follow the 12-episode first one.
That feels like a low-key meta move for this blatantly meta show. Of course it got a second season pickup; Melissa McCarthy is producing this thing! In Hollywood, it's all about who you know. And on Nobodies, it's all about who you know and how long you can shamelessly throw that person's name around until some VIP realizes you are totally, blatantly full of shit.