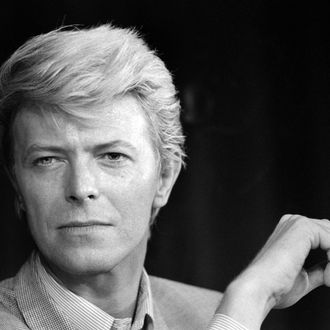 David Bowie in 1983.
Photo: RALPH GATTI/AFP/Getty Images
It looks like there will be a black star shining over David Bowie fans this spring: As Pitchfork is reporting, two rare, limited-edition Bowie albums are set to drop for this year's tenth-annual Record Store Day. These include Cracked Actor (Live in Los Angeles 1974), which has never before seen the light of day — and features Luther Vandross on vocals — and Bowpromo, which is a set of alternate takes to songs that eventually landed on 1971's Hunky Dory. The former was engineered by longtime Bowie collaborator Tony Visconti, and "differs greatly" from Bowie's existing live album of the same year, per the late musician's official website. In true Record Store Day fashion, these will be available in limited, vinyl-only quantities at your local record store, on April 22. Though, as with Frank Ocean's vinyl pressings previous, patience may reward us with further pressings if we miss out on the day itself.